10 Best Ceramic Heaters of 2022 – Top Picks & Reviews
Last Updated on December 11, 2021
During the cold winter months, it can become quite expensive to heat an entire house. Even when running the central heating system, some rooms may not get as much heat as others.
A good solution to either problem is a portable space heater, and ceramic heaters are some of the best and most popular options. Many of them may look very similar, but in our testing, we found out that they perform quite differently from each other. We wanted to see which ones were the best for our homes.
After testing many of them for that purpose, we would like to share the information we've compiled in the following ten reviews. These were all decent products, but the top three were our favorites, and they're the ones we most recommend.
A Quick Look at the Winners of 2022:
Image
Product
Details

Best Overall

Lasko Space Heater

Remote control
Digital thermostat
Powerful 1,500 watts
CHECK PRICE

Best Value

Brightown Space Heater

Quiet
Affordable
Up to 1500 watts of power
CHECK PRICE

Premium Choice

Aikoper Tower Heater

Looks sleek
Eco setting
Auto-shutoff
CHECK PRICE

ISILER Portable Heater

Portable
Compact
Overheat protection
CHECK PRICE

andily Small Heater

Cheap
Small
Portable
CHECK PRICE
The 10 Best Ceramic Heaters:
1. Lasko 755320 Ceramic Space Heater – Best Overall
Packed with features like overheat protection and a carrying handle that prevents you from getting burned, the Lasko Ceramic Space Heater cooked the competition to become our favorite heater. To begin with, it looks sleek and doesn't feel out of place in any setting. But the tower design of this space heater is as functional as it is stylish. With larger heating elements and more airflow, the extra height of this tower heater coupled with the oscillating motion, allows it to more evenly distribute warm air throughout the room, making you more comfortable and wasting less electricity.
Digital controls adorn the top and make it simple to dial in your temperature preference in Fahrenheit or Celsius. You don't even have to get up from your chair, thanks to the included remote control. There's even a timer built-in so you can run it just as long as you need. It's not the cheapest way to heat your room, but we think it's a great blend of price and performance making it the best ceramic heater of 2020.
Pros
Powerful 1,500 watts
Remote control
Digital thermostat
Cons
Not the cheapest heating method
---
2. Brightown Ceramic Space Heater – Best Value
Compact and powerful, the Brightown Ceramic Space Heater packs a lot of heat into a little package. Standing just 10 inches tall with a carrying handle on the top, it's easy to take this heater from room to room and it never takes up much space. Just make sure you don't take it into the bathroom or any other wet areas because the moisture can cause the heating element to corrode and ruin the heater. But it's safe for use on carpet thanks to the cool touch exterior. Moreover, important safety features like tip-over shutoff and overheat protection make sure your home isn't at risk of fire.
This little heater features three separate modes; a high-power level producing 1,500 watts of heat, a 750-watt low-power level, and even a fan-only mode. In combination with the temperature adjustment knob, you can set the Brightown heater to provide exactly the climate you desire in any given room. With so many safe and effective features in such an affordable package, it's easy to see why we think the Brightown is the best ceramic heater for the money.
Pros
Up to 1500 watts of power
Quiet operation
Affordably priced
Cons
Not suitable for bathrooms
---
3. Aikoper Ceramic Tower Heater – Premium Choice
When it's cold in your house, you need an instant solution. Thankfully, the Aikoper Ceramic Tower Heater provides instant heat so that you don't have to wait to warm up! With this device, you get incredible control over the exact performance you want. There are three modes to choose from with high pushing out 1,500 watts of heat, low running 900 watts, and there's even an ECO mode to keep your energy bills lower. No matter which mode you choose, you can dial in the exact temperature you prefer by way of the digital thermostat controls. Wide-angle oscillation makes sure that the heat is evenly distributed throughout the room so there are no cold pockets.
The Aikoper heater is more costly than other portable ceramic heaters we tested, but it's also got some features that we think warrant the higher price. For instance, it provides great convenience with a wireless remote control that lets you change settings without getting up. You also get important safety features like auto-shutoff and tip-over protection. Plus, it's one of the more attractive units we've seen, and the all-black look fits with any décor.
Pros
Looks sleek
Auto-shutoff and tip-over protection
Eco setting for reduced energy use
Wireless remote control
Cons
More expensive than other heaters
---
4. ISILER Portable Ceramic Heater
Simple, small, and safe, the ISILER portable ceramic heater is a great device overall that just missed our top three. It's more affordable than many of the other heaters we tested, so it's also missing some of the handy features like a digital display. Instead, the ISILER heater has a single knob and a power switch situated on the back panel. It has a powerful 1,500-watt output but only manages to warm a small space of up to 108 square feet. Of course, it's one of the most compact units we've tried, measuring just seven inches in each direction.
The design of the ISILER heater makes it very difficult to tip over, nearly impossible. It's got a very wide base and it isn't very tall, so it's unlikely to tip. This unit is equipped with instant warm-up so you don't have to wait for warm air once you turn it on. It did tend to get a bit warm to the touch though, and the front grille gets hot enough to burn the skin. These few flaws prevented the ISILER from achieving a top-three recommendation, but it's still a capable product that performs admirably.
Pros
Overheat protection
Affordably priced
Compact and portable
Cons
It only warms up to 108 sq. Ft.
No digital display
---
5. andily Ceramic Small Heater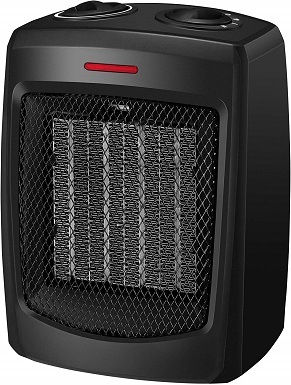 Dirt cheap and basic with no frills or extras, the andily Ceramic Small Heater is about as simple of a device as you can get. It's very compact, standing just eight inches high and six inches wide. The finish is plain black so it doesn't stick out or draw attention, but it's also not particularly attractive. A small cutout in the back serves as a handle for transporting it without burning yourself. Since it is so small, it's easy to move this heater around wherever you need it, making it a convenient choice as well as one of the cheapest.
Despite its small stature, the andily heater is quite capable, pumping out 1,500 watts of heat in the high setting. It has all the necessary safety features like tip-over shutoff and overheat protection. In a small room, it was capable of warming the area quickly enough to satisfy our needs. However, the fan is noticeably louder than other heaters we tested, and some of our testers found it to be quite annoying. There's also no built-in timer, a feature we find to be useful on other heaters we've tried.
Cons
Fan is loud
No built-in timer
---
6. GiveBest Ceramic Space Heater
Equipped with a carrying handle and small enough to easily move, the GiveBest Ceramic Space Heater can be transported around your home without risk of receiving burns. It's also full of important safety features like tip-over protection. The overheat protection, however, doesn't work as we hoped. Instead, it shuts the heater off while the room is still cold, refusing to turn back on for many hours. This was a frustrating flaw that seemed like a malfunction, but really, the temperature for the overheat protection is just set too low.
The GiveBest space heater was one of the more affordable models we used during our testing. It was also one of the louder models. When you turn it on, you can hear it in adjacent rooms. Even when just operating the fan it's a noisy machine. In the end, we just don't think it's quite as good of a performer as some of the other products in the same price range.
Pros
Affordable
Carrying handle
Cons
Shuts off if pushed too hard
Louder than expected
---
7. HOME_CHOICE Small Ceramic Space-Heater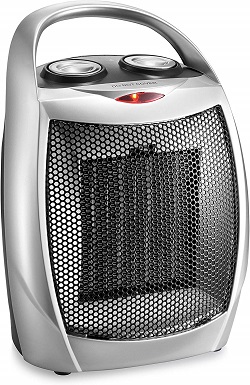 Available in either silver or black, the HOME_CHOICE small ceramic space heater is a very average offering with a shorter than average lifespan. It is compact and portable, easily carried around even while hot thanks to the handle that's situated on top, away from the heat. It's also very cheap, one of the lowest-priced heaters that we tested for this list. Unfortunately, the build quality matched the low price and ours died after just over a month of light use. At any price, this is too short-lived.
While it did run, it seemed to work fine, except for one glaring flaw. This heater has important safety features, one of which is the overheat protection that automatically turns the device off when it gets too hot. This one is set at just 75 degrees, far too low in our opinion. The result was that our heater was constantly shutting off when it felt warm, not when we did.
Pros
Very cheap
Compact and portable
Cons
Low shutoff of just 75 degrees
Short lifespan
---
8. Black + Decker Ceramic Desktop Heaters
Black + Decker is a well-known name in power tools, so we held out hope for their ceramic desktop heater. It is compact and would be easy to move if there were a handle built-in. But there's not, so it's a bit more difficult to move while using it than it should be. Of course, it's priced pretty cheaply, so you can't ask for too much. It does have important safety features though, such as overheat protection and tip-over auto-shutoff.
With 1,500 watts of heat pumping power on the high setting, this heater provided a decent dose of warmth whenever needed. But it seemed to pull too much power doing so. After just a few uses, it started to cause tripped breakers whenever we used it. It didn't matter which circuit we ran it on, the result was the same. If it worked more reliably, the Black + Decker Ceramic Desktop Heater would probably climb to a higher position on our list.
Pros
Very cheap price
Has important safety features
Cons
No handle to carry it
Potential electrical issues
---
9. Honeywell EnergySmart Ceramic Heater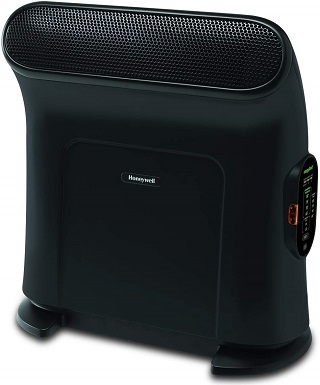 Unique looks immediately set the Honeywell HZ-860 apart from other ceramic heaters. It's not the traditional tower or small box heater, instead, opting for a new design with the vent on top. Convection airflow is used to provide more even airflow for improved heat distribution. Simple digital controls are built onto the side. This is one of the most expensive heating options we tested, and we think you're mostly paying for this interesting design because the performance isn't quite up to par with the looks it presents.
When using this heater, the performance was very spotty. It would stop working at random, and we couldn't pinpoint a cause. This was a recurring issue and no matter what we did the same problem persisted. After a few weeks of disappointing operation, it completely stopped producing heat. The unit would still power on, but it would expel no heat. For such an expensive unit, this was a very disappointing lifespan. We'd recommend saving your money and getting something with more reliable performance.
Pros
Very unique look
Convection airflow for improved heat distribution
Cons
Very expensive option
Stops working at random
Reliability issues
---
10. Mueller Ceramic Space Heater
We always appreciate an affordably priced product, and the Mueller Ceramic Space Heater is one of the cheaper models we tried out. Granted, it also looks and feels cheap, which isn't quite as exciting. Small and compact, it's easily portable. But in our experience, the fingerhold cut-out was too small, making it more difficult to carry than other heaters. We were glad to see all the important safety features we've come to expect, such as the tip-over auto-shutoff and overheat protection.
There were two major complaints we had about the Mueller space heater that held it back to the bottom position of our list. First, it didn't produce much heat. We expected it would be able to adequately warm-up a small room, but disappointingly, it wasn't able to do so. It did, however, make an awful lot of noise, which is our second gripe with this heater. The fan was extremely noisy, even though it hardly produced any heat. Overall, it's not a great product in our eyes and we don't recommend purchasing it.
Cons
Looks and feels cheap
Didn't produce much heat
Very noisy fan
---
Buyer's Guide
There are tons of portable heaters on the market. We've just compared 10 of the best, but what sets these heaters apart from the rest? All of these are ceramic heaters, which have several advantages over other types of heaters. In this short buyer's guide, we will discuss the benefits and drawbacks of ceramic heaters to see how they compare. Then, we will cover the traits that set them apart from each other. While they all perform the same basic function, heating a room, some key differences between them make certain ones more preferable than others and we're going to outline them here.
Advantages of Ceramic Heaters
Ceramic heaters have become the most popular type of space heater for good reasons. For instance, they heat up very quickly, nearly instantly. This doesn't mean your room will be instantly warm, but you'll have hot air from the moment you turn the heater on. They also cool down very quickly once turned off, so you don't have to worry about it being a fire hazard once you power it down. Compared to other heating methods, ceramic offers very even heat that stays consistent. Ceramic heaters also have features like cool-touch sides that don't heat up the way they do with other types of heaters.
Features to Look for in Your Ceramic Space Heater
Now that we've established the benefits of using a ceramic heater instead of another type of heater, let's discuss some of the key features to look for in a ceramic space heater. These features will be present on most heaters, but they may be done differently from model to model. You'll want to keep the following things in mind when making your final decision as to which heater is best for your situation.
Safety Features
There are certain standard safety features found on most models of ceramic heaters. However, there are still some differences worth mentioning. These features become especially important if you have children and/or pets running around, in which case, they should be prioritized more than almost any other feature. The main safety features to look far are tip-over auto-shutoff and overheat protection.
Tip-over auto-shutoff turns the unit off when it is tipped over. It's usually done with a small, pressure-operated switch on the bottom of the heater. When it tips, the button is no longer pressed so the device shuts off.
Overheat protection detects the temperature of the heater and automatically turns it off when it gets too hot. Once it turns the device off, you won't be able to turn it back on for quite some time. Unfortunately, some heaters had too low of an overheat shutoff temperature, causing them to shut off at inconvenient times. Try to find a heater that will get to a decent operating temperature without shutting off.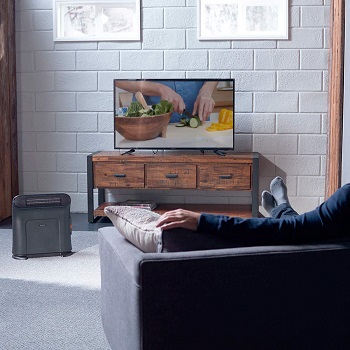 Convenience Features
Some features are all about convenience, and they're not included on all heaters. One of our favorites is a wireless remote control. It's hard to overstate how nice it is to have complete control over the temperature around you without having to get up from your working position at your desk or your lounging position on the couch. We've come to appreciate the added luxury of a remote control, so it's something we prefer to have included with the heaters we use.
Temperature Controls
All of these heaters have temperature controls of some kind, but they are not created equal. The most basic setups feature one or two dials for control. A common setup is one knob for adjusting the temperature, and one knob for selecting the operating mode. While this works just fine, it's not exactly precise. Some of our favorite heaters instead provided completely digital controls. This allows you to dial in your temperature preference to the exact degree you'd like. These controls also made it very simple to set timers and change settings without any guesswork. If you're on a tight budget, the knob style controls will get you through just fine. But if you can afford the nicer digital controls, you'll appreciate where the extra money went.
Operating Noise
Some of the heaters we tested were nearly silent. You'd plug them in and almost forget about them until you started getting too warm. Others were so loud that there's no way you could miss them for even a second. When we started our testing, we didn't realize how much of a deciding factor the noise would be. But some of these machines were much noisier than we could tolerate in a quiet work environment or while trying to relax and watch some television. We suggest looking for the quietest operating heater you can find. You'll thank us for it later.
More heater buying guides:
Conclusion:
From simple and basic to sleek and digital, we've gotten to test out quite a few ceramic space heaters to see which ones can be relied on in the colder months of winter. Our reviews compared ten of the best, but only three of them earned our recommendations. In our opinion, the best ceramic heater overall is the Lasko Ceramic Space Heater. It packs 1,500 watts of power into a sleek tower design that oscillates and evenly distributes heat through the whole room. Digital controls allow for precise adjustability and the remote control adds a new level of convenience.
If you're looking for the best bang for your buck, we suggest the Brightown Ceramic Space Heater. It's powerful enough to heat a small room with 1,500 watts of power, but it's quiet enough that you're unlikely to notice it. Best of all, it's very affordably priced. But when price isn't of concern and you want a premium option, the Aikoper Ceramic Tower Heater is an elegant solution that performs as good as it looks. With powerful heat, all the safety features, an ECO setting for reduced electric usage, and even a wireless remote, it's hard to beat at any price.