10 Best Kerosene Heaters of 2022 – Top Picks & Reviews
Last Updated on December 11, 2021
Kerosene heaters have been around for quite a while now, and they have proven themselves to be a beneficial secondary heat source for the house, as well as an excellent tool for warming the worksite. If this is your first kerosene heater, you might find you need help navigating different models available to you, and you may not understand how the different styles work. If you have experience with these heaters, you may be surprised at how much they have changed.
We've chosen 10 popular brands of kerosene heaters to review for you to help you learn more about them. We have also included a buyer's guide where we go over the essential parts of these heaters to show you what to look for and what to avoid while shopping.
Keep reading for our detailed reviews of each brand of kerosene heater, where we compare BTUs, noise level, safety features, and portability, to help you make an informed purchase.
These are the ten kerosene heaters that we have chosen to review for you.
A Quick Comparison of Our Favorites:
Image
Product
Details

Best Overall

Dyna-Glo Delux Heater

80,000 BTUs
Heats 1,900 sq. ft.
Runtime fuel gauge
CHECK PRICE

Best Value

Dyna-Glo Convection Heater

Indoor use
10,500 BTUs
Heats 500 sq. ft.
CHECK PRICE

Premium Choice

Mr. Heater Forced-Air Heater

No flame
175,000 BTUs
Overheat protection
CHECK PRICE

Sengoku HeatMate Radiant Heater

10,000 BTUs
Heats up to 400 sq. ft.
Large capacity fuel tank
CHECK PRICE

Dura Heat Indoor Heater

23,800 BTUs
Long runtime
No-lift heat chamber
CHECK PRICE
The 10 Best Kerosene Heaters:
1. Dyna-Glo Delux Kerosene Heater – Best Overall
The Dyna-Glo Delux KFA80DGD Kerosene Heater is our pick for the best overall kerosene heater. This model is a forced air style heater that lies flat, close to the ground, and blows directional heat. It's capable of providing 80,000 BTUs of warmth and can heat an area of 1,900 square feet. A thermostat helps you set and maintain a comfortable temperature while conserving fuel. The fuel gauge is easy to read and how much fuel is left, and there are also marking telling you how much runtime remains.
This heater needs a lot of ventilation and is not for indoor use, but it works great in an open garage or outdoors when you need to supply heat. The only thing we didn't like is that the fan speed is not adjustable, only the amount of fuel that it burns.
In short, we think that this is the best kerosene heater in 2020.
Pros
80,000 BTUs
Heats 1,900 square feet
Thermostat
Runtime fuel gauge
---
2. Dyna-Glo Kerosene Convection Heater – Best Value
The Dyna-Glo WK11C8 Indoor Kerosene Convection Heater is the heater we chose as the best value, and we believe it is the best kerosene heater for the money. This compact model delivers 10,500 BTU of heating power and can warm up to 500 square feet. You can use it indoors to help bring down the cost of heating oil, and it produces a warm, even heat that you can adjust by changing the size of the wick.
We loved the low price, and its smaller size made it a little easier to move from room to room. It doesn't heat as large an area, though, and it was challenging to change the wick because everything is so compact in this heater.
Pros
10,500 BTUs
Heats 500 square feet
Indoor use
Cons
Difficult to change the wick
Only heats a small area
---
3. Mr. Heater Forced-Air Kerosene Heater – Premium Choice
The Mr. Heater F270370 Forced-Air Kerosene Heater is our premium choice kerosene heater, and this low to the ground forced air type heater will set you back a few extra dollars, but it's a professional-grade heater that delivers loads of warmth. It provides 175,000 BTUs of air warming power that can heat a room over 4,000 square feet. The 14-gallon tank keeps this unit running for up to 10 hours on its highest setting, and it has built-in overheat protection that shuts the machine down if it gets too hot. It also features two oversized pneumatic wheels to help make this large heater more portable.
The only downside we experienced with the Mr. Heater brand was that it is quite pricey.
Pros
175,000 BTUs
Heats 4000 square feet
No flame
Overheat protection
14-gallon tank
Wheels
---
4. Sengoku HeatMate Radiant Kerosene Heater
The Sengoku HeatMate OR-77 Portable Omni-Radiant Kerosene Heater is for indoor and outdoor use. It features a large cage to prevent burns and extra stabilizer bars built-in to the base to avoid accidental knock overs. It produces 110,000 BTUs of heat and can warm an area of 400 square feet. It's easy to transport and features a large capacity tank that lets the heater run continuously for more than 12 hours.
While we were using this model, we wished it gave off a little more heat. Another problem we had was a faulty wick would only light halfway, and we needed to replace it.
Pros
Indoor and outdoor use
10,000 BTUs
Heats up to 400 square feet
Large capacity fuel tank
---
5. Dura Heat Indoor Kerosene-Heater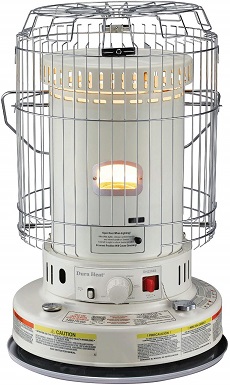 The Dura Heat DH2304S Indoor Kerosene Heater is a traditional style kerosene heater with a modern no-lift heat chamber that helps to reduce the smell of kerosene that comes with most heaters. This model produces 23,800 BTUs of heat and features an oversized tank that keeps it running for up to 12 hours.
The problems we had while using the Dura Heat was the flame adjuster was finicky, and it was challenging to get the wick flame where we wanted it. The no-lift door does reduce the smell quite a bit, but the electrical ignition in our model failed after a few days, so lighting it became more challenging than it would be without the no-lift feature. This heater is also huge and needs a lot of space to operate.
Pros
23,800 BTUs
Long runtime
No-lift heat chamber
Cons
Flame adjustment
Large size
Electric igniter fails
---
6. DeWalt Kerosene Heaters
The DeWalt DXH75KT Kerosene Heater is a forced air heater from a well known and popular brand. This model provides 75,000 BTUs of space heating energy, and the fan is powerful enough to move plenty of air. Recessed controls reduce the chance that settings will get bumped, and this model can deliver continuous heat for up to 11 hours on a single tank of gas.
The primary downside we experienced with this brand was that it is quite noisy and could be distracting and cause you to talk in a loud voice. Also, many people will try to use these heaters to dry floors and other things, but the thermostat on this model will continuously shut off the unit so you cannot use it for that purpose.
Pros
Recessed controls
75,000 BTUs
Cons
Noisy
Can't use for drying
---
7. ProTemp's Kerosene Radiant Heaters
The ProTemp's PT-80-OFR Kerosene Radiant Heater is a type of forced air heater with a larger blower than most of the others on this list and resembles the turbine fans you see in summer. It delivers 80,000 BTUs of heat and is capable of warming up to 2,000 square feet. It uses a unique ceramic burner instead of a wick, and it also features a safety guard to protect the floor under the heater.
We found this heater to be incredibly hard to get started and more than once we gave up trying. When It would run, we would get about six hours off a full tank, which is considerably less than many of the other heaters on this list. Also, the lack of a thermostat makes it hard to set a comfortable heat level or conserve the quickly burning fuel.
Pros
80,000 BTUs
Heats up to 2,000 square feet
Unique ceramic burner
Safety guard
Cons
No thermostat
Short runtime
Difficult starting
---
8. STANLEY Kerosene Forced Air Heater
The STANLEY ST-80T-KFA Kerosene Forced Air Heater is another popular name brand on this list, and this model can deliver 80,000 BTUs that can heat up to 2,000 square feet. It features a thermostat to help you dial in your desired comfort level, and the outside doesn't get hot to the touch.
The heater isn't too hard to move when the tank is empty, but once the tank is full, it becomes quite hard to transport. It's much weightier with the fuel, and the handle is thin and doesn't balance the weight well. The partly obstructed fuel cap makes filling the tank challenging and prone to spills and once this machine is running, it is extremely loud.
Cons
Hard to carry
Noisy
Poorly placed fuel cap
---
9. REMINGTON Portable Forced Air Kerosene Heater
The REMINGTON REM-80T-KFA-O Portable Forced Air Kerosene Heater features a unique five-point safety system to reduce the chance of accidental fire or burning. It features an automatic overheat shutoff, flameout protection, circuit breaker, thermosense safety indicator, and extra safety guards. It puts out 80,000 BTUs of heating power and includes a thermostat to help dial in your ideal comfort level.
We felt that the thermometer didn't work well and is off by several degrees. We also found that this model is very noisy when running.
Pros
80,000 BTUs
Five-point safety system
Thermostat
Cons
The thermostat doesn't work well
Noisy
---
10. Avenger Portable Kerosene Multi-Fuel Heaters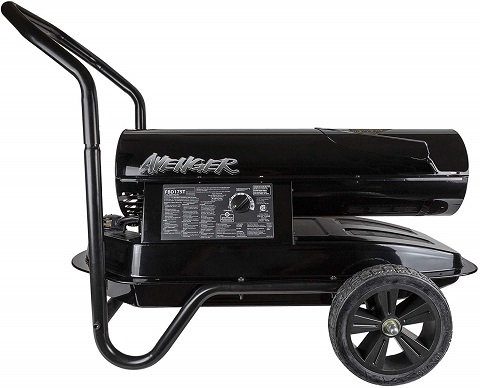 The Avenger FBD175T Portable Kerosene Multi-Fuel Heater is the last kerosene heater on our list. This powerful heater can produce 175,000 BTUs, which is enough to heat an area of 4,000 square feet or more. A built-in thermostat helps you set and maintain a specific temperature and also helps to reduce the amount of gas used. The ten-gallon tank helps keep the heater running for several hours at a time.
We certainly noticed that this unit is capable of producing a lot of heat, but it is also quite heavy, especially when it's full of fuel. It's too loud and goes through a lot of fuel, so it could get expensive if you need to do a lot of heating. Another thing that we didn't like was that it arrived without some parts for the handle assembly, and we had to use some spare parts we luckily had on hand.
Pros
175,000 BTUs
Can heat more than 4,000 square feet
Thermostat
Ten-gallon tank
Cons
Heavy
Noisy
Missing parts for the handle
Uses a lot of fuel
---
Buyer's Guide
Let's take a closer look at these heaters to see what the most critical elements are.
Heat Output
The amount of heat that your kerosene heater creates is undoubtedly one of its most essential aspects. Kerosene heaters use BTUs to measure heat output. We recommend looking for a unit that produces at least 10,000 BTUs for indoor use, and 50,000 BTUs for outdoor use. Anything less than these numbers is likely to be too small for most needs, and having more power than you need allows you to reduce power to save on fuel.
Conventional or Forced Air
There are two main styles of a kerosene heater, and they are conventional and forced air. Conventional kerosene heaters have been around for quite a while and most of us can probably recognize one. These units have a large round base that holds the fuel and a smaller round tower section is on top that holds the wick and often has a window to inspect the inner workings. You adjust the wick length to adjust the heat output on these models, and you can use them indoors or out.
Forced air kerosene heaters more similarly resemble a leaf blower or a rocket engine. This type of heater uses a powerful fan to blow hot air in a specific direction. These heaters are strictly for outdoor use and areas with plenty of ventilation, like an open garage. This type of heater is capable of producing much more heat than a conventional kerosene heater, and they often include a thermostat to dial in a comfortable temperature.
Safety Features
Safety features are another essential part of any heater, and we recommend checking what safety features each brand includes before making a purchase. Always try to avoid brands that allow a lot of fumes to escape.
We recommend looking for forced air units that feature overheat protection. This feature turns the unit off if it gets too hot. You might also see circuit breakers, heat shields, and guards on a forced air unit.
Conventional heaters often have a built-in automatic shutoff if it gets bumped or tipped over. These units also typically have large metal cages over them to prevent burns from accidentally touching them.
Runtime
The runtime of your heater will be directly related to the size of the fuel tank, but some brands seem to go through more fuel than other brands, and conventional heaters generally use much less fuel than the forced air heaters.
Portability
Both conventional and forced air heaters can get quite heavy and challenging to move around, especially when full of fuel. There's not much you can do with a conventional heater, but forced air kerosene heaters often have wheels that can make moving them around much more comfortable. If you plan on moving your forced air heater often, we highly recommend a wheeled model over the type with a handle.
Reliability
Finally, the reliability of the kerosene heater is going to be a significant concern. Conventional kerosene heaters often suffer from lower quality wicks that don't burn evenly. A faulty wick can create smoke and fumes, reduce the heat output, and cause the unit to go out prematurely. Wicks are changeable, though some brands make it a lot easier than others.
A forced air kerosene heater often has an electric starter that can become faulty, making it nearly impossible to get it running. These heaters usually require professional repair when they become defective.
See also: our recent reviews of kerosene lanterns.
Conclusion:
We recommend getting a kerosene heater that's a little bigger than you anticipate you need. A heater that's too powerful can turn down to save on fuel, and larger machines are usually better constructed. Running a heater on a cooler setting can also help extend the lifespan of the unit. If you need to heat an open garage or a work zone, we think you will like our choice for the best overall. The Dyna-Glo Delux KFA80DGD Kerosene Heater can produce 80,000 BTUs of heat, which enough to warm up to 2,000 square feet. If you need to use your heater indoors, the Dyna-Glo WK11C8 Indoor Kerosene Convection Heater is a great low-cost heater that we believe you will like.
We hope that you learned something reading over these kerosene heater reviews and buyer's guide. If they have helped you get closer to a purchase, please share them on Facebook and Twitter.
We wish you good luck finding the best kerosene heater for your needs!