9 Best Electric Fireplaces of 2022 – Top Picks & Reviews
Last Updated on December 11, 2021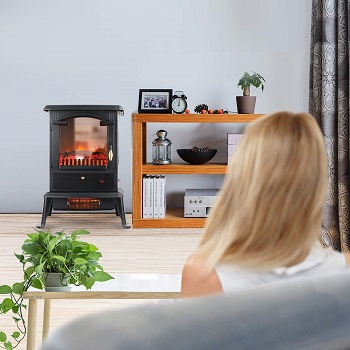 If you are in the market for an electric fireplace heater, you may be surprised at how many different brands are available. Each brand has various features and a unique capacity to heat your home. Some models are more for presentation, while others are great heaters.
We've chosen ten of the most popular electric fireplace heaters to review for you so you can determine which heater suits you best and what features you require. We have also included a buyer's guide where we take a close look at the most critical aspects of the fireplace heater, so you know what to look for when shopping.
Keep reading for our detailed reviews of each brand of electric fireplace heater, where we compare wattage, heat output, flame realism, and safety features to help you make an educated purchase.
A Quick Comparison of our Favorites
Image
Product
Details

Best Overall

Duraflame Fireplace Heater

5200 BTU
3D flame effect
Overheat protection
CHECK PRICE

Best Value

Air Choice Fireplace Heater

1500 watts
Two heat modes
3-second warm-up
CHECK PRICE

Premium Choice

Southern Enterprises Fireplace Heater

1,500 watts
4 heat settings
Elegant appearance
CHECK PRICE

Ameriwood Home Fireplace Heater

1,400 watts
Independent flames
Fireplace plus television console
CHECK PRICE

e-Flame USA Freestanding Fireplace Heater

Lightweight
1,500 watts
Replaceable 40-watt bulbs
CHECK PRICE
The 9 Best Electric Fireplace Heaters
1. Duraflame Electric Fireplace Heater – Best Overall
The Duraflame DFI-5010-01 Infrared Electric Fireplace Heater is our choice for the best overall electric fireplace heater. This heater delivers 5,200 BTUs that can heat up to 1,000 square feet. You can control the temperature with the adjustable digital thermostat. The infrared quartz crystal heats without removing the humidity, which helps relieve dry skin and sinuses throughout the winter months. An overheat mechanism shuts the heater down if it detects that it's getting too hot. It features a visually stunning three-dimensional flame effect that allows you to adjust the color, brightness, and speed of the flames.
There is a remote control that allows you to turn the heater on and off, but it won't let you adjust the temperature, so we gave the remote a thumbs down.
Pros
5200 BTU
3D flame effect
Maintains natural humidity
Overheat protection
Digital thermostat
Cons
Remote doesn't change the temperature
---
2. Air Choice Electric Fireplace Heater – Best Value
The Air Choice Electric Fireplace Heater is our pick for the best value, and we believe it is the best electric fireplace heater for the money. This heater delivers 1,500 watts of heating power that can warm a 1,000 square foot space. A second low heat mode reduces the heating watts to 750 to save on electricity when the weather is a little warmer. It boasts an extremely fast 3-second warm-up, and you can feel the heat almost immediately. This heater features overheat protection that will shut it down if it gets too hot, and it also has tip-over protection that will turn it off if it falls over. It also features a 3D flame effect that can be used independently of the heater, and it's reasonably lightweight, only weighing a little over 10 pounds.
The only complaint we had while we used this model is that it was noisy and could be especially bothersome at night when you are trying to sleep. We also wish that it had a thermostat to regulate the temperature.
Pros
3-second warm-up
1500 watts
Two heat modes
Overheat protection
3D flame effect
---
3. Southern Enterprises Electric Fireplace Heater– Premium Choice
The Southern Enterprises AMZ8729EF Electric Fireplace Heater is our premium choice. This heater features a high-quality, elegant design that looks more expensive than it is. It delivers 1,500 watts of heat that is adjustable in four heat settings and provides overheat protection to prevent the unit from burning out or starting a fire. A convenient remote control makes it easy to adjust the heat settings, and the glowing flames can be used independently of the heater.
The downside to this electric fireplace heater is its high cost. It also takes quite a bit of easy, but time-consuming assembly, and the result is a heater that weighs over 100 pounds.
Pros
1,500 watts
Elegant appearance
Remote control
Four heat settings
Automatic shutoff
Independent flames
---
4. Ameriwood Home Electric Fireplace Heater
The Ameriwood Home 1764096PCOM Electric Fireplace Heater is a television console and fireplace in one. It's large enough to fit a 55-inch flatscreen television on top and can hold up to 70 pounds. There are two open shelves and two cabinets with glass doors to store your routers, remotes, movies, etc.. The 18-inch fireplace is the centerpiece and delivers 1,400 watts of heat. It's rated to heat a room of 400 square feet. The flames can be used with or without the heat.
This fireplace is a beautiful unit, but it is expensive and might be overkill for someone who doesn't need a television console. Once built, it is over 100 pounds, so it's a bit heavy. We found the craftsmanship and quality control to be lacking in this product. Several holes were missing, and many boards were not straight.
Pros
Fireplace plus television console
1,400 watts
Independent flames
Cons
Heavy
Expensive
Poor quality control
---
5. e-Flame USA Freestanding Electric Fireplace Heater
The e-Flame USA EF-FS2213B Freestanding Electric Fireplace Heater is lightweight and great for moving from room to room. All surfaces are cool to the touch, and the flame effect uses two replaceable 40-watt bulbs. It delivers 1,500 watts of heat and can heat rooms to 400 square feet.
We felt that this electric fireplace heater was very noisy. There's a metal plate inside that rattles as it gets hot and destroys the fireplace illusion. It's also a little shorter than it looks in the advertisements and it didn't put out a lot of heat. It's an excellent personal heater that you can carry around, but it won't heat a room.
Pros
1,500 watts
Replaceable 40-watt bulbs
Lightweight
Cons
Noisy
Doesn't get that hot
---
6. Touchstone Electric Fireplace Heater
The Touchstone 80001 Onyx Electric Fireplace Heater is a wall hanging unit that provides a 50-inch display of lifelike flames. It looks very modern and gives the ability to select one of five flame intensity settings that range from embers to a raging fire. It has two heat settings and can warm a room up to 400 square feet.
While we were using this unit, there were a few things we didn't like. First, it requires you to drill holes in your wall to install it. It's over 50 pounds, so we were concerned that our wall might not hold it, but it did. There is no thermostat, so you need to turn off the heat manually if it gets too warm. We didn't think it put out much heat, especially for its size, and it is unlikely it will warm a room too much.
Pros
50 inches wide
Designed for wall hanging
Five flame settings
Two heat settings
Lifelike flames
Cons
No thermostat
Doesn't provide much heat
Noisy
---
7. LIFE SMART Electric Fireplace Heater
The LIFE SMART Infrared Electric Fireplace Heater features a decorative baroque design that is quite elegant and will look fantastic in almost any room. It features two heat modes. The high heat mode delivers 1,500-watt heating power while the low setting cuts the watts back to 1,000 watts. It's a lightweight fireplace heater that weighs less than 15 pounds, and features overheat protection as well as a tip-over automatic shutoff.
We liked the elegant style of this model, but it was extremely noisy while it operated. We didn't think the flames looked as real as some of the other brands on this list, and we wished the power cord was a bit longer than it is.
Pros
Decorative
Two heat modes
1,500-watt heating
Overheat and tip-over protection
Lightweight
Cons
Short power cord
Noisy
Flames not realistic
---
8. VIVOHOME Free Standing Electric Fireplace Heater
The VIVOHOME Free Standing Electric Fireplace Heater resembles the old-fashioned wood stoves of days gone. It features an adjustable thermostat on the side with independent controls for the heat and flame. It's also portable. The surfaces remain cool to the touch, and it weighs less than 15 pounds. There is also tip-over and overheat protection to help remove any risk when using this heater.
While we were trying out this unit, the first thing we noticed is that it's a lot smaller than it looks online and it is very noisy. There is no remote so you need to operate the unit from the mounted control panel on the side of the machine and it doesn't put out a lot of heat so it won't warm the room that much and is better a personal heater.
Pros
Adjustable thermostat
Portable
Tip-over protection
Cons
Small
Doesn't heat a whole room
No remote
Noisy
---
9. TACKLIFE Electric Fireplace Heater
The TACKLIFE ZXH11 Electric Fireplace Heater is the last brand of electric fireplace heater we have on our list to review for you. This model features two heat settings. It provides 1,500 watts of heat on the high setting and reduces the number of watts to 750 on low. There is a control to adjust the brightness of the flame, and this unit feature overheat protection that will shut it off if it gets too hot.
We could hardly see the flames on our unit, and we felt that even brands with a static image provided better flames than this brand. Also, when running the heater on the high setting, the light tended to dim and even go off from time to time. Our model did not come with the advertised remote control.
Pros
1,500 watts
Two heat settings
180-degree viewing
Overheat protection
Cons
Flame hardly visible
Light flickers and dims in high heat mode
It didn't come with a remote
---
Buyer's Guide
Let's take a look at some of the most important things to look for when purchasing an electric fireplace heater.
Fire Realism
Since you are going to pay extra for the fireplace over a standard heater, you want to make sure you are happy with the faux flame it provides. There are several types of fire available, from 3D flames to LED illuminated static images. The quality of the fire will affect the cost, but make sure you are happy with the effect it provides before you make a purchase.
Heat Output
If you want your electric fireplace heater to be functional as well as fashionable, the amount of heat the unit puts out is likely going to be the next most important thing you look for while shopping around. You can usually gauge how much heat the heater creates by looking at the watts. The more watts a heater uses, the hotter it will typically get. We recommend 1,500 watts in most cases, but the exact number comes down to personal preference and the size of the room.
Another way to tell how much heat a fireplace creates is to look at the BYUs if they have them listed on the package.  Similar to watts, more is better. We recommend starting with 5,000 BTUs.
Safety Features
Another thing to consider when shopping for an electric fireplace is what safety features it has built-in. We recommend checking that your electric heater has overheat protection. Overheat protection is a safety feature that shuts the heater off if it gets too hot. Another safety feature we recommend that you look for is tip-over protection. This safety feature shuts off the heater if it detects that it has fallen over. Tip-over security is especially important when using smaller heaters and also when using lightweight heaters.
Ease of Use
One last thing to think about when shopping for a new electric fireplace heater is how easy it is to use. Some units may have multiple timers and other features that need setting. Make sure the controls are structure in a way that makes sense to you. If there is a remote, make sure all of the functions are present on the remote, so you don't need to get up to adjust a setting.
Conclusion
When purchasing an electric fireplace heater, we recommend getting one that adequately warms your living space. Even if your primary reason for buying it is for decoration, you will most likely put it to good use, and the heating part is what you're paying for in most instances. A perfect example is our pick for best overall, the Duraflame DFI-5010-01 Infrared Electric Fireplace Heater. This heater provides plenty of heat, and it won't dry out the air. It also has some of the most realistic looking flames on this list. Our best value is the Air Choice Electric Fireplace Heater, and it cuts down the price but keeps the high value. This heater gets warm in three seconds.
If you continue to shop, we hope that our buyer's guide will guide you to your dream heater. If you have enjoyed reading over these reviews and buyers guide, please share these electric fireplace heaters on Facebook and Twitter.