6 Most Energy-Efficient Space Heaters 2022 – Reviews & Guide
Last Updated on December 11, 2021
When the temperatures start to drop, space heaters can be your best friend. In addition to adding supplemental warmth to your home, many people like the fact that they can save you a little bit of money on your power bill.
While they can't replace central heating, they can decrease the amount of time that you need to run your furnace.
However, space heaters also come with their own energy costs. To really maximize your money-saving potential, you want something that is energy efficient.
That is why we're taking a look at energy-efficient space heaters—products that will keep you warm and save you money at the same time.
We'll even include a buyer's guide full of information that will help make your decision easier.
So, without further ado, read on for some energy efficient space heater reviews.
Comparison of our Favorite Models in 2022:
Image
Product
Details

Best Overall

Dr Infrared Space Heater

Quiet
Infrared
1000 sq. ft. range
CHECK PRICE

Mr. Heater Buddy Space Heater

Durable
Portable
Safety shutoff
CHECK PRICE

Best Value

Lasko Designer Space Heater

Stylish
Remote
Affordable
CHECK PRICE

DeLonghi Panel Heater

Sleek
Energy-saving
Mounts to wall
CHECK PRICE

Honeywell UberHeat Space Heater

Compact
Easy to use
Smart saving
CHECK PRICE
The 6 Best Energy-Efficient Space Heaters:
1. Dr Infrared Heater DR968 Space Heater – Best Overall
We kick things off with the Dr. Infrared Heater, a unit that uses infrared heat to maximize the efficiency of the warmth in your home. Infrared heat is prized for its ability to be absorbed by the skin and by your clothes. It's different than convection heat, which only warms the air.
You also get a massive, 1000-square-foot range with this unit, which should be enough to cover virtually any room in your home.
It also runs quietly so as not to disturb the environment, and it can be adjusted from 50-86 degrees.
Last but not least, it even includes an automatic shutoff feature. After twelve hours, the machine will deactivate so as not to waste energy or run the risk of overheating.
One issue that you might experience with the Dr. Infrared Heater is that it may take a little bit longer than you'd care to wait for it to get going.
It's also on the pricier side, though for the range it has it does stay true to conventional market rates.
Bottom line? It's a great heater that more than earns its price tag.
Pros
1000-Sq-Foot Range
Quiet
Infrared
12-Hour Shutoff
Cons
Takes awhile to get going
---
2. Mr. Heater Buddy Energy-Efficient Space Heater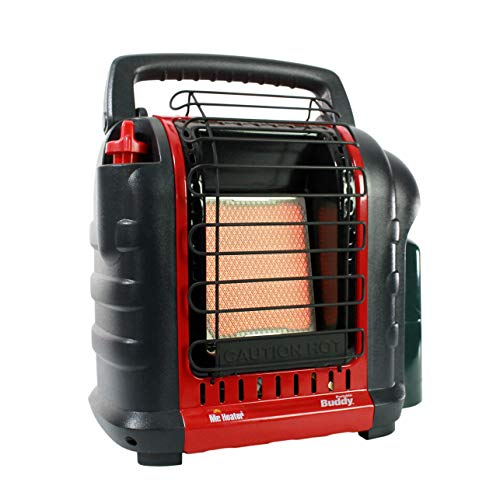 The Mr. Heater is a propane powered unit with a moderate price tag that users on a budget will appreciate.
It's portable, featuring a light weight, and a convenient handle, and it also includes a durable exterior that will be able to stand up to the elements.
Because of these features, it will do well both indoors and out.
It also shuts off at the drop of a hat. If it tips over, or starts running low on fuel, the heater deactivates to avoid safety risks.
The features seen here are top-notch but there are a couple of factors robbing this unit of the top slot.
For one thing, the range is very modest. You're limited to 350 feet of coverage which will only cover small spaces. This isn't the type of heater you get to warm an entire room.
It will also be more expensive to run than the last option that we looked at, by virtue of its fuel source. Propane is more expensive than electric.
Still, if you are looking for a personal heater, this one would be hard to beat.
Pros
Moderate price
Durable
Portable
Safety Shutoff
Cons
Small range
Pricier to run
---
3. Lasko Designer 6435 Ceramic Space Heater – Best Value
In our "best for the money" category, we look at the Lasko. This product is both affordable and efficient, and even earns extra points for featuring a design that justifies the name "designer series."
If you want a heater that will look good in your home (which you don't often see) this will be a good one to think about.
The unit also features three heat settings, and a remote control that will allow you to make adjustments from across the room as needed.
However, there are some issues that you'll need to be wary of. For one thing, this unit is very sensitive to humidity. This may not sound like a big deal, but since many people use their heaters in the bathroom, it could potentially cause an issue.
We've also received reports that the warranty is not well honored. In other words, if you run into problems, the company will do everything they can to not help you out.
Still, if you want a great looking heater at a reasonable price, you could do worse than the Lasko.
Pros
Affordable
Stylish
Remote
Cons
Sensitive to humidity
Bad warranty
---
4. DeLonghi HMP1500 Mica Panel Heater
The DeLonghi heater is a compact, sleek, portable unit that can easily mount to the wall. This feature is nice to have both for safety and decorative reasons. You won't have a bulky heater messing up the flow of your room, and you also won't need to worry about children or pets making accidental contact with the hot surface.
It also features safety shutoff features. If the unit starts to overheat, it will shut off immediately to avoid any significant problems.
Of course, like any product, there are cons. For one thing, this heater isn't quite as silent as DeLonghi claims. You'll be able to hear this machine when it's running.
It also seems to overheat often. The safety switch means that nothing serious should come of it, but the heater will be regularly shutting off, which defeats the purpose of having it.
Pros
Mounts to wall
Safety shutoff
---
5. Honeywell HCE200W UberHeat Space Heater
From Honeywell we look at a very tiny, budget-friendly option. This remarkably compact unit comes with two heat settings (high and low) and even includes safety features. If the UberHeat tips over, or overheats, it will shut off immediately.
There are a couple of bothersome issues. It will only heat for several feet, so it's best used on a desk or a nightstand.
You also have to sit very close to it to enjoy the benefits. The problem is that with that level of proximity, it will get too hot very quickly, which means you'll need to fiddle with the controls often.
These are issues that you might expect from a product in this price range, but they still aren't great to see.
Cons
Requires you to fiddle with controls often
Extremely limited range
---
6. Vornado AVH2 Plus Space-Heater
Last, we have the Vornado AVH2 Plus. This fan-driven unit is small but it actually does feature a great concept. The heater is designed to adjust automatically to the temperature of the room, it comes with two different settings, and it's cool to the touch.
Unfortunately, there are problems with the product's execution. Many users report that they only had theirs for a matter of months before it permanently ceased to work.
The features on the Vornado are very nice. But until this issue is fixed, buyers will want to proceed with caution when it comes to this product.
Pros
Adjusts to climate
Cool to the touch
Cons
Very short life expectancy
---
User Guide:
We've looked at the reviews, but what do they all mean? It's a fair question. There are lots of features, and even some technical terms that can make the decision a little bit complicated.
Let's take a moment to look at some buying considerations that should help clear up any remaining questions that you might have.
Type of heat
For the purposes of our guide, there are two main types of heat that you will want to keep in mind: infrared and convection.
Convection is what you will come across the most often. Convection heating systems are generally pretty affordable and simple. They operate quite a bit like a furnace does, heating up the air in a room to gradually improve your overall temperature.
The problem is that their heat doesn't warm the human body so well. You'll experience the warmth, but only as a consequence of being surrounded by it.
Infrared heat is much more penetrating. This is the sort of warmth that the sun generates. It's absorbed directly into objects rather than just the air, so if you come into contact with this radiant form of warmth, it will heat you up much more quickly.
Infrared heating systems are usually more expensive, but they're praised for their efficiency.
This option will be especially useful for people with achy joints, or even arthritis, as it will provide better relief.
A Word About Infrared
Infrared heat gets a little bit of a bad rap from some people. There are concerns floating around that these systems can cause cancers, or even eye damage.
On the one hand, it's always good to be cautious. Modern scientific findings are always changing our ideas of what is or is not healthy.
However, it is worth noting that the same light waves that have people concerned about infrared are also abundant in sunshine, but in much higher doses.
In other words, if infrared heaters are bad for you, they still aren't nearly as bad as the light you will encounter on your average walk in the park.
Range
Another key factor to think about is range. What size is the room that you're trying to heat? Some heating devices are meant to output air only a few feet. These units will do well located near a desk, or perhaps in a bathroom.
But other units can heat sizable rooms. We're talking 750+ square feet with these types of units.
The larger the space that a unit can heat, the better it will be at filling in for your furnace. After all, if you can heat the bigger rooms in your house at an affordable rate there isn't much of a need to run the central heating, right?
Right.
These options will be pricier to buy, and pricier to run, but with strategic planning they can ultimately save you more on your overall energy costs.
It is important that you pay close attention to your heater's range capabilities, because if you don't get something with the right output capacity, it defeats the purpose of getting a space heater in the first place.
Settings
Many space heaters will come with a range of different heating settings. The more settings that you get, the better the heater will be at giving you exactly what you want.
Of course, convenience always costs more money. Most units that feature a lot of settings are more expensive but they make up for it with enhanced usefulness.
At a minimum, most heaters will have a high, medium, and low setting.
Another consideration to factor in is how distinct these settings actually are. Sometimes lower-end units will try to make themselves look better by including lots of settings.
The problem? They all feel the same. Unfortunately, the only way to tell how distinct a setting is would be to experience the machine yourself.
Most people won't be able to do this on their own, which is what makes reviews like ours so handy.
Safety
Space heaters are safe to own but they do raise concerns, especially for households that have children or pets.
One such concern is that they're often hot to the touch. It is possible to get burned by making accidental contact with a space heater, which will, of course, be a big issue for users with kids.
There's also the risk that the heater will overheat and perhaps create a fire.
Naturally, you also don't want that.
There are options out there with built-in safety features that address both of these concerns. Many space heaters have built-in shutoff technology that will deactivate the unit when it gets too hot. This technology is so common that you can expect to see it in most options that you come across.
There are also units out there that operate cool to the touch. These options are much less common, but they are available if this is an important feature to you.
Type of Output
Space heaters are very simple devices. You have a heating element, and some method of dispersing the warmth.
Heat dispersion is another factor that you'll want to consider.
Some units use the room's natural air currents to spread heat around. Others are fan driven.
Fan-driven options are usually better at filling up a room with heat faster, but they have built-in cons as well. They can be louder and, like any fan, they also circulate contaminants and allergens.
There's no saying which is better—it's all a matter of personal preference.
Timer
Some heaters will also feature a timer that you can set so that the machine will only produce heat for a specific amount of time. When the timer runs out, it deactivates automatically.
This is a valuable feature for several reasons. For one thing, it saves you a little bit of money on energy, because you won't be running your heater all day. Using a timer, you'll quickly realize that the heat the unit generates hangs in the air for some time, so you won't need to turn it back on right away.
There's also a safety consideration built in as well.  The space heater is not very likely to overheat if it's only running for two hours. And, as a bonus, you won't need to worry so much about forgetting about it.
That's a common concern for those who use space heaters. You really shouldn't leave the house with one of these machines running because things can happen, and you want to monitor them.
But in practice, this happens all the time. A timer will dramatically decrease the risk of anything bad happening while you are out of the house or, for that matter, sleeping.
Price
Last but not least, price. There is a dramatic range of prices for this piece of technology.
More money generally buys you more settings and a bigger range of heat.
If you need to warm up a larger space, you'll probably need to be willing to put a little bit of money into this purchase.
However, there are always affordable options out there if you're willing to go with something simple.
---
Also, here's a quick roundup of all our space heater guides:
Conclusion
With our energy-efficient space heater reviews now finished it is time for you to make your decision. We looked at six great products, but at the end of the day, you probably only want one of them.
Maybe it will be the Dr. Infrared Heater, our top pick. This option uses heat similar to that of the sun to warm you.
But it's also a little bit costly. If you want to save money on the sticker price as well as the operation costs, our "best for the money pick," the Lasko, will probably be more to your liking.
Ultimately it's going to be your call. You know plenty about energy-efficient space heaters now. It's time to apply all of your new knowledge to the buying process to find something you will be happy with.