10 Best Window Fans of 2022 – Reviews & Top Picks
Last Updated on December 11, 2021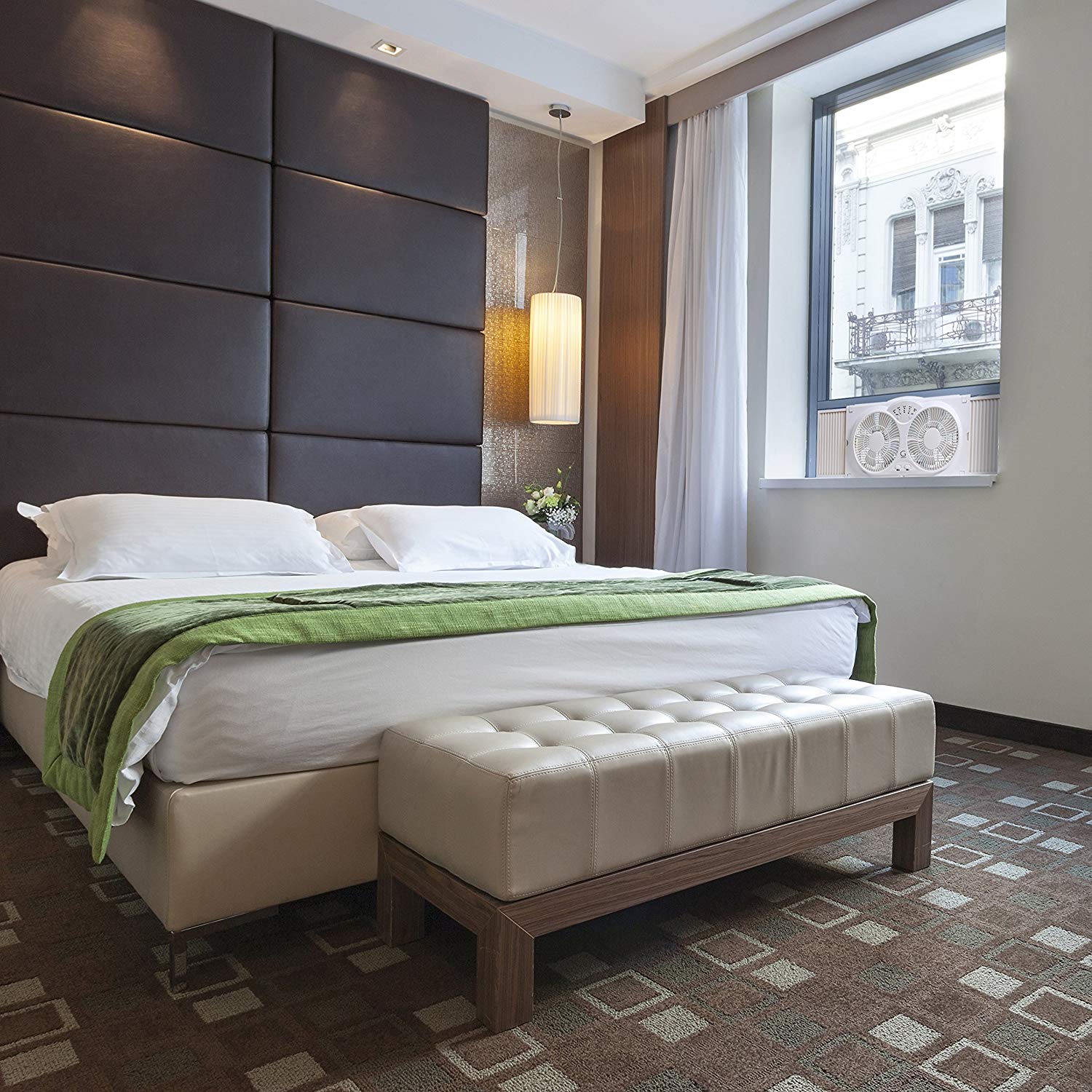 Choosing a new window fan for your home seems like it shouldn't take much thought, but you will find that you're in for quite a surprise when you start shopping around. The technology behind widow fans and circulation, in general, is causing modern window fans to have all kinds of features we never thought they needed.
Choosing a new window fan now can turn out to be quite challenging. We've chosen 10 different window fans to review for you, and we'll give you our honest opinion about each one so you can see if you agree. When finished, you'll have a good idea of the features offered as well as what you like and what you don't.
We've also included a window fan buyer's guide where we explain the essentials to look for when shopping for a window fan.
Keep reading for our hands-on reviews of each window fan, as we compare blades, intake and exhaust, automatic shutoff, and thermostats to help you make the right choice.
---
A Quick Comparison of Our Favorites
Image
Product
Details

Best Overall

Air King Window Fan

Low Noise
⅙-horsepower
Easy operation
CHECK PRICE

Best Value

Holmes Twin Window Fan

Quiet
Double blades
Each blade works independently
CHECK PRICE

Premium Choice

Lasko Reversible Window Fan

3-speeds
16-inch blade
Reversible blades
CHECK PRICE

Bionaire Window Fan

LED display
Remote control
Programmable thermostat
CHECK PRICE

Genesis Twin Window Fan

3 speeds
Can use as a desk fan
LED status notification
CHECK PRICE
The 10 Best Window Fans – Reviews 2022
Let's look at the different models of window fans we have chosen to review for you.
1. Air King 9155 Window Fan – Best Overall
The Air King 9155 Window Fan is our choice for best overall. This window fan has one large blade with three fins and a powerful ⅙-horsepower engine. It's rated for 2,470 CFM, and we found it very strong. It works well as an exhaust fan to remove cigarettes and even cigar smoke from the room. It's effortless to operate by turning the center dial, and it's not too loud.
The only complaint we have is that there is hardly any change in the speeds, and the fan blows hard no matter what.
Pros
⅙-horsepower
2,470 CFM
Easy operation
Low Noise
Cons
Not enough variation between the speeds
---
2. Holmes Twin Window Fan – Best Value
The  Holmes HAWF2043-N Twin Window Fan is our pick for the best window fan for the money. The Holmes is a dual blade window fan, and each fan can work independently as an intake or exhaust fan. It features a thermostat adjustable in 5-degree increments that will automatically turn the fan on or off accordingly.
While we reviewed it, we liked the ability to control the direction of each fan and its quiet operation, but we found that the thermostat didn't work very well.
Pros
Double Blades
Each blade works independently
Quiet
---
3. Lasko Reversible Window Fan – Premium Choice
The Lasko 2155A Electrically Reversible Window Fan is our premium choice for buyers who want a great window fan regardless of cost. This window fan has a large 16-inch blade that produces a lot of wind. It has three speeds to allow for more control over comfort and is reversible.
We found this fan one of the strongest on this list, with the primary downside being the widow's inability to hold it in place to its design, which causes a lot of shaking and could lead to the fan falling out of the window.
Pros
3-speeds
Reversible blades
16-inch blade
Storm guard
Cons
The window doesn't hold it firm
---
4. Bionaire BW2300-N Window Fan
The Bionaire BW2300-N Window Fan features double blades that are reversible and can run independently as intake and exhaust fans. It features an LED display that makes it easy to see from across the room. It also comes with a remote control that we are surprised got so much use. The thermostat on this window fan was accurate, and the unit powered down at night when it got cold.
However, we did notice that you cannot install this fan vertically, and that might leave out some of you. This window fan also does not produce a lot of wind, and we kept trying to turn it up. The housing also feels like cheap plastic that won't last long.
Pros
Double Blades
LED display
Remote control
Programmable thermostat
Reversible
Cons
Can't turn vertical
Cheap materials
Weak fan
---
5. Genesis Twin Window Fan
The Genesis A1WINDOWFAN Twin Window Fan is a versatile window fan that can double as a desk fan. It features three fan speed and independent fan direction controls. The controls are a little awkward, but the LED lift control panel lets you know what is currently selected.
While we used this machine, we blew a fuse in the power cord several times, which is never a good sign, and the unit itself seemed constructed from cheap materials.
Pros
3 speeds
Reversible
Double blades
LED status notification
Can use as a desk fan
Cons
Blows fuses
Cheap materials
---
6. Homebasix BP2-9A Window Fan
The Homebasix BP2-9A Window Fan features a double blade with independent intake and exhaust controls. It features a remote control, and the thermostat can tell the fan to turn on, turn off, or reverse the direction of the blades.
On the negative side, we found that the fan doesn't have a lot of power compared to some of the other models on our list. Also, the motors are not waterproof, so you will need to remove the fan in the rain. While we used it, it rattled quite a bit and made a lot of noise. The cheaply made remote looks and feels very flimsy.
Pros
Thermostat
Remote control
Auto-switching from intake to exhaust
Cons
Motor not waterproof
Rattles
Cheap remote
---
7. BOVADO Twin Window Cooling Fan
The BOVADO USA Twin Window Cooling Fan is a double-bladed fan that features three fan functions, and you can select between intake fans, exhaust fans, and circulating fans. The remote control is handy and makes it easy to change the settings. The bug net is a great feature that prevents bugs and other particles from entering your home.
The motors aren't waterproof, though, so you will need to remove the fan if it rains, and the poor construction caused one of the fans to make a whistling sound.
Pros
Remote control
Bug net
Double blades
Cons
Motor not waterproof
Poor construction
One of the fans made noise
---
8. Comfort Zone Reversible Twin Window Fan
The Comfort Zone CZ310R Expandable Reversible Twin Window Fan features a removable bug screen to help keep bugs from your home. It has three fan speeds and three modes of operation, which include intake, exhaust, and circulate. An included remote control makes it easy to change the settings.coo
Even though we liked the remote control, we found the unit very cheaply made, and it didn't put out a lot of air even on its highest setting. The fan also rattled quite a bit and made a considerable amount of noise while we used it.
Pros
Removable bug screen
3 speeds
Remote control
Cons
Cheaply made
Noisy
Doesn't move much air
---
9. Nature's Cooling Smart Window Fan
The Nature's Cooling Solutions EB 001-02 Smart Window Fan is an advanced type of fan for the set it and forget it type. This window fan looks more like an air conditioner than a window fan, and once installed, you set the thermostat and let the machine do the work.
This window fan will monitor temperature and humidity levels indoors and outdoors and bring air in or remove it as needed. Automatic settings increase energy savings, and the machine is so quiet you won't know it running.
The downside is that it takes over the widow and is large and bulky. If you place the unit in a window that receives a lot of sunlight, it will throw off the thermostat and cause the unit to malfunction.
Pros
Automatic operation
Quiet operation
Energy saving
Cons
Large and bulky
Sunlight will throw off the thermostat
---
10. Optimus Twin 2-Speed Window Fan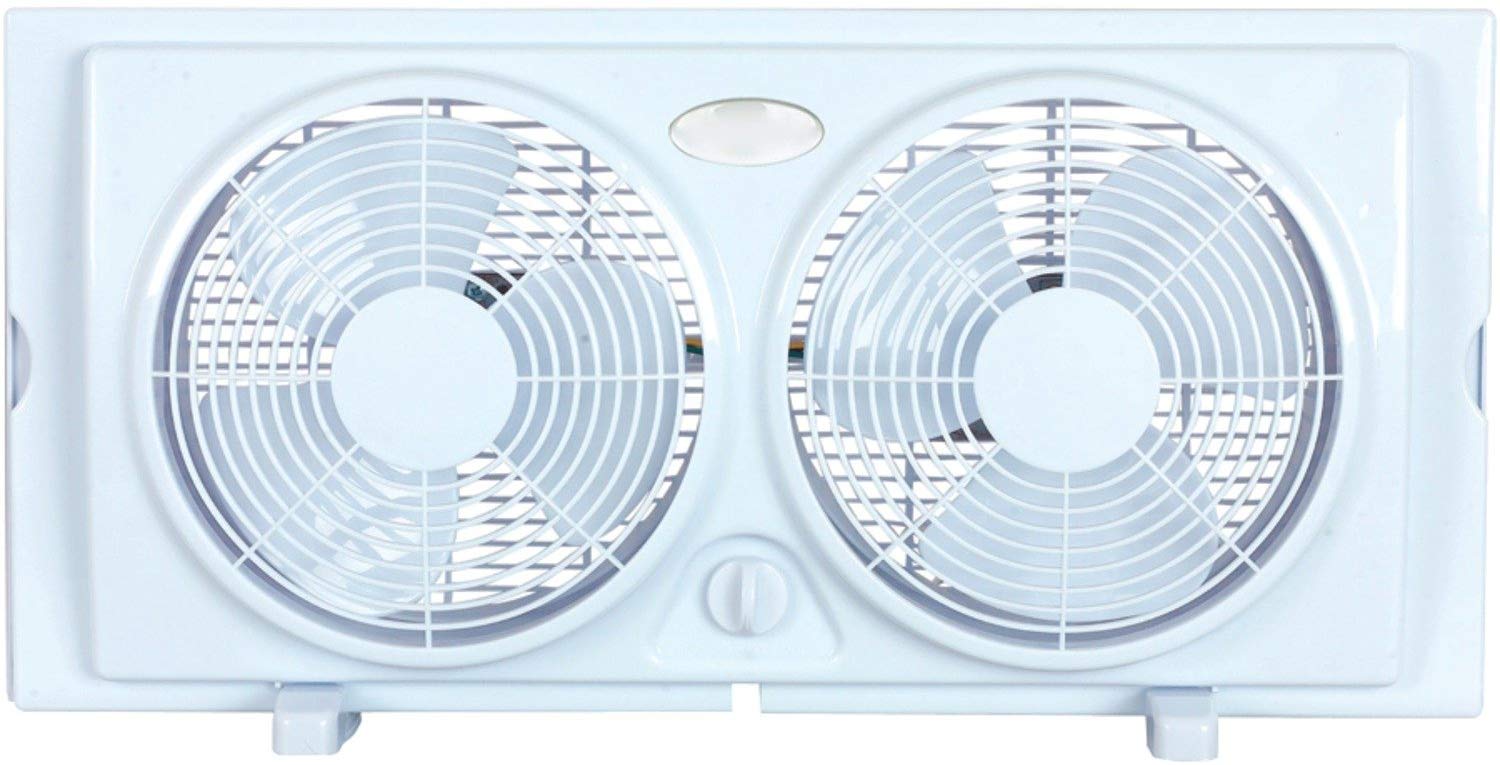 The Optimus F-5280 Twin 2-Speed Window Fan is the last window fan we are going to review for you, and though it's not as good as the first three, it can still move some air around and might be what you are looking for to purchase.
The Optimus features a basic window fan design that we've all come to know and love. It features simple two-speed controls to move the air around, and if you want to reverse the blades, you will need to turn the fan around. Solid construction provides this fan with water-resistant motors and feet so you can use this fan as a desk fan.
It doesn't put out a lot of wind, the blades aren't reversible, and it has no thermostat, but it isn't too loud and should last a few years.
Pros
Water-resistant motors
Simple design
Double blade
Doubles as a table fan
Cons
Not reversible
No individual blade settings
No thermostat
---
Buyer's Guide
We know a window fan isn't as complicated a device as many of the other products we review, but you may be surprised at all the science that goes into them. You may even find there are several things you haven't thought about before, so have a look over our window fan buyer' guide before you make your next purchase.
How It Works
A window fan will use one or more electric motors to spin one or more blades. Several magnets surround a copper coil. As we apply electricity to the copper coil, it creates a magnetic field. This magnetic field repels the magnets causing the housing to turn and drive the blades.
The cost of copper is on the rise, and as a result, manufacturers may try to reduce costs by cutting back on the amount and quality of copper used in the motor. The less copper used, the less torque the motor will have. If the blades are too heavy, the motor will get hot and could overheat. Without overheat protection, the motor could burn out or even burst into flames.
Watch out for fans with an unusually low wattage compared to fans of similar size and air displacement.
Build Quality
The motor isn't the only part of the window fan that needs solid construction. The blades are exceptionally delicate, and it's essential to inspect them before purchase to make sure there are none broken, and they look durable. The weight and angles of the blades will directly affect the performance.
The grates or louvers on the front and back of the fan are also very delicate. These will need to withstand cleaning and the occasional bumping, especially when installing and removing the fan.
Water Resistant Motors
Even If you remove your fan from the window when it rains, there's still a good chance that your window fan will encounter rain at some point. Make sure the motor is water-resistant, and the motor housing looks durable enough to handle the rains in your area.
Storm Guards
Some window fans come with guards to protect the window fan from the weather. Fans equipped with a guard can last much longer than without, depending on how well the guard protects the motor and the blades.  Some storm guards can also protect against rain entering the home.
Weight
The weight can vary quite a bit between different models of window fans. While a heavier fan may be able to withstand the elements a bit better than a light fan, the important thing is that you can move it around comfortably. When you make your purchase remember that you will need to install the fan every spring and store it every fall.
Ease of Installation
Most window fans are easy to install, but some fans might offer more insulation between the inside and outside and require more time. It's also important to know the size of the window you want to install your fan in while you're shopping around. Some fans will be easier than others to fit in specific size windows, especially if you have old windows.
Ease of Use
Many fans feature straightforward controls and often present the user with only one switch that allows us to operate our window fan at one or two speeds and turn it off. However, digital controls and even remote controls are more common as a result of modern fans having more features.
Number of Speeds
The first feature that you're likely to inquire about is how many speeds it has. More settings will allow you to improve your comfort level and will enable you to use your fan more often.
Reversible
One of the most useful features that a window fan can provide it the ability to reverse the direction of the fan blades. With the ability to change the direction of your fan blades, you can use the window fan as either an intake fan or as an exhaust fan without needing to remove the fan from your window.
Intake Fan
An intake fan is when you bring fresh cool air in from the outside. The air inside your home is often more polluted than outside air.
The downside to intake fans is that they could bring pollution into the home if the outside air is polluted. Intake fans are often used at night when the air outside is cool.
Exhaust Fans
An exhaust fan pushes air from inside your home to the outside. Exhaust fans are useful when you are cooking, have bad odors, or your home is sweltering. Exhaust fans are often used during the day to push the hot air outside.
Thermostat
Many fans may offer a thermostat, and while that may seem silly at first, it is quite helpful. Many digital fans can now use a thermostat to know when to change over from an exhaust fan to an intake fan, and they can do it automatically.
Strength and CFMs
How much air your window fan can bring in or push from your home is one of the essential things to look at before you make a purchase. Most fans are for one room, but there are several models designed for many rooms and even the whole home. Your needs are unique, so get a fan that suits them.
Many times, you can get an idea of how strong a fan is by looking for a number labeled as CFMs. CFM stands for Cubic Feet per Minute, and the higher this number, the more cubic feet of air the unit can move in one minute.
Energy efficient
If you are going to be using one or more window fans for an extended period, energy efficiency can become quite a concern. When shopping around, look for models that have energy efficiency ratings listed on the box.
Conclusion
Hopefully, you have enjoyed reading over our reviews and our buyer's guide and feel more confident about making your next purchase. If your still not sure about which is the best window fan, we highly recommend our choice for best overall. The Air King 9155 Window Fan moves an enormous amount of air around and features easy to use controls. It has sturdy construction with quiet operation and will last for years. The Holmes HAWF2043-N Twin Window Fan is our choice for the best value, and it features two independently operating blades for maximum air circulation.
If you feel closer to deciding and learned something new riding over our window fan buyers guide, please share our window fan reviews with your friends on Facebook and Twitter.