9 Best Tent Heaters of 2022 – Top Picks & Reviews
Last Updated on December 11, 2021
If you have decided to purchase a tent heater then you have come to the right place. Below, we have reviews for the 10 best tent heaters available to buy. We have considered factors such as portability, heat output, fuel sources, durability, and warranties in our reviews.
We will help to guide you through the tent heater selection process, as well as provide you with a buyer's guide after the review section. Keep reading to see what's available, what our top picks of the year are, and which tent heater comes in at first place.
---
A Quick Comparison of Our Favorites
Image
Product
Details

Best Overall

Mr. Heater Propane Heater

Easy to carry
Built-in Piezo igniter
Several safety features
CHECK PRICE

Best Value

Honeywell Personal Heater

Very Compact
Easy to operate
Overheat protection
CHECK PRICE

Premium Choice

Allegro Industries Tent Heater

Powerful fan
Thermostat knob
Stainless steel
CHECK PRICE

Texsport Sportsmate Propane Heater

Simple design
Durable build
Safe to operate
CHECK PRICE

Neiko Butane Heater

Sturdy construction
Safety shut off valve
Uses standard butane gas
CHECK PRICE
The 9 Best Tent Heaters – Reviews 2022
1. Mr. Heater F215100 Propane Heater – Best Overall
The Mr. Heater F215100 MH4B Little Buddy Propane Heater is a portable and easy to use tent heater. It has adjustable heat output and can operate at either 4000 or 9000 BTU/HR. It's a compact and easy to store unit, which is great for saving space. The fold-down handle also reduces storage space. Moreover, it has a 4-position controller for the built-in Piezo igniter, off/on, and lo/hi heat settings. This Mr. Heater unit also has a swivel-out fuel connection and will operate without producing odors. It uses 1-pound disposable propane cylinders.
The Mr. Heater F215100 MH4B Little Buddy propane heater is also safe to use. The heater has a high-temperature wire guard and has a low-oxygen safety shut-off, thus protecting campers from injury. There is also a tip-over safety shut-off which is very useful since it can help prevent fires. It is also safe to use indoors. This is great in case of utility outages in the winter.
This is a solid unit with adjustable heat output and great safety settings. However, it should be noted that it could be a little difficult to get it started up.
Pros
Several safety features
Adjustable 4000/9000 BTU/HR output
Easy to carry/store
Built-in Piezo igniter
Safe for indoor use
---
 2. Honeywell HCE100B Personal Heater – Best Value
We found that the Honeywell HCE100B Heat Bud Ceramic Personal Heater was the best tent heater for the money. Although it is only suitable for personal use, it doesn't pretend to be more than that. If you are planning on using this for camping, you will either have to use more than one of these or stick to using it in a one-person tent. This unit has low and high heat settings, with the high setting producing 853 BTU/HR (250 watts), and the low heat setting outputting 580 BTU/HR (170 watts). Operating the Honeywell HCE100B s quite easy. There is a 3-position switch that lets you toggle between on, off, and low or high heat. It doesn't get more complicated than that.
This unit will fit in the palm of your hand, which makes it easy to carry. However, it is a plug-in unit. If you want to go on a camping trip far away from plugs, you could consider using it with an inverter. However, this will increase the complexity of your heating setup. Honeywell didn't ignore safety and made sure that the unit has tip-over protection, and a cool-touch housing to prevent burns and overheating. You should note that it can take a while to heat up, so don't look for immediate heat when using this unit.
This tent heater comes with a three-year limited warranty for peace of mind. If any issues occur, they will most likely be protected. Combined with the safety features, the Honeywell unit is our best value pick.
Pros
Very Compact
Easy to operate (3-position switch)
Adequate safety features
Overheat protection
Cons
Needs to be plugged in
Takes a while to heat up
You may also like: Low wattage space heaters – our reviews and guide!
---
3. Allegro Industries Tent Heater – Premium Choice
The Allegro Industries 9401‐50 Tent Heater is a powerful electric heater. It combines a 5000 BTU/HR heater with a powerful fan that allows for even heat distribution. It is easy to carry due to its small size and easy to operate. It has an adjustable thermostat knob to set the temperature at a comfortable level. This heater can also be safely used indoors in the case of an outage or other emergency.
Safety is paramount as usual, and this Allegro heater includes overheat protection to ensures that the heat never exceeds the maximum specified temperature set by the manufacturer. Its housing is made from stainless steel and is quite durable. A one-year warranty is provided.
This unit produces a respectable level of heat for an electric heater at 5000 BTU/HR, which is why we picked this as our premium heater.
However, it still needs to be plugged in, which could cause issues in remote locations; you will need batteries and an inverter to run the heater. This will make your heating setup more complicated than just using a gas oven. Moreover, while it is durable, we would have liked to see a warranty longer than one year for such a high-end unit.
Pros
Durable stainless steel construction
Powerful fan for improved heat circulation
Adjustable thermostat knob
Cons
Needs to be plugged in
Only a 1-year warranty
---
4. Texsport Sportsmate Portable Propane Heater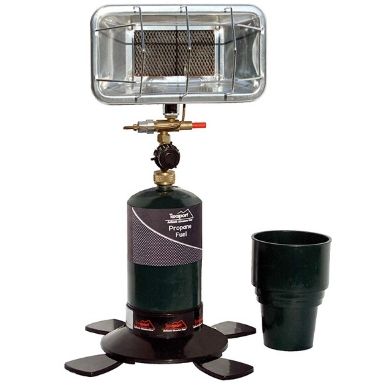 The Texsport Sportsmate portable propane heater is great for camping trips and use in golf carts. It comes with a cup holder specifically for use in a golf cart. It is still small enough to be lugged around for a long camping trip and uses 16.4oz disposable propane fuel cylinders. The unit also comes with an adjustable pressure regulator on/off control valve
The Texsports Sportsmate has an auto shut-off valve that stops gas from leaking if the flame goes out, and it has a safety grid to prevent burns. The durable stainless steel burner comes with a one-year warranty.
The simplicity of this unit is a good thing; however, it can produce strong propane fumes and doesn't have electronic ignition, which is an inconvenience that keeps it from moving further up the list.
Pros
Simple design
Safe to operate
Durable build
Cons
Produces strong propane fumes
---
5. Neiko 60116L Camping Butane Heater
The Neiko 60116L Camping Emergency Butane heater has an output of 4400 BTU/HR, which makes it a desirable companion on camping trips. It uses standard butane gas cylinders which are compact, increasing the portability of the unit. With the proper adapter, it can also be hooked up to a propane tank.
The Neiko 60116L also includes a safety shut-off valve. It is constructed from stainless steel but unfortunately, we couldn't locate any clear warranty information on the unit.
This is a sturdy, compact unit designed with safety in mind. However, it can be difficult to get it up and running with propane. In addition, the included instructions are poor, which makes the initial setup difficult.
Pros
Sturdy construction
Safety shut off valve
Uses standard butane gas
Cons
Difficult to use with propane
Poor instructions
---
6. Avenger Portable Propane Heater
The Avenger FBDFA60V portable forced air propane heater has a large output capacity up to 60,000 BTU/HR and it can heat areas to 1,450 square feet. It is not designed to be lugged around for large distances by hand, especially since it uses threaded refillable gas propane cylinders that range from 20 to 100 pounds.
This unit has a digital variable thermostat for control over the temperature of the space being heated and is equipped with a fan to help with the circulation of warm air. The Avenger FBDFA60V also has an automatic safety shut-off valve.
This heater is constructed with sturdy metal and comes with a one-year limited warranty. Push-button ignition makes it a breeze to start.
The Avenger FBDFA60V portable forced air propane heater can heat large areas, has an accurate temperature control system, and an automatic safety shut-off valve. It is also sturdy. These features make it a solid choice. Please note that the Avenger FBDFA60V needs an electrical source for the fan motor. Some owners have also reported that it randomly cuts out sometimes and needs to be restarted.
Pros
Large heating capacity
Safety shut-off
Push-button ignition
Cons
Must be plugged in to use motor for fan
Sometimes randomly cuts out
What to buy – A space heater vs electric blanket? Click here to see advice!
---
7. Givebest Ceramic Space Heater
The Givebest Ceramic Space Heater is compact and easy to transport while camping. However, you will need a source of electricity to use it. The controls are quite straightforward as the unit comes with two knobs. One controls the thermostat, and the other sets the heater to either work at 5000BTU/HR (1500W), 2500BTU/HR (750W).
The Givebest Ceramic space heater is also designed with safety in mind and has overheating and tip-over protection.
Unfortunately, we didn't find any clear warranty information on this product. This is a shame since there have been a few quality control concerns expressed by owners whose units malfunctioned after only short periods of ownership. Overall, this is still a decent heater since it's easy to use and very portable.
Pros
Easy to use
Safe to use
Adjustable thermostat
Cons
Noisy
Quality control issues
---
8. Mr. Heater MH9BX Buddy
The Mr. Heater F232000 MH9BX Buddy is a compact unit capable of operating at 4000 BTU/HR or 9000 BTU/HR. It is equipped with a fold-down handle and can be easily hauled on camping trips. It has a large heating surface, which directs radiant heat over a wide area and has a nice swivel regulator which allows it to be used with either disposable cylinders or larger external liquid propane cylinders.
Controls are easy. The Mr. Heater F232000 has a 4-way switch with options for the built-in piezo igniter, one for the high setting, one for the low setting, and one for off.
This unit is decent but it's very sensitive to wind and consumes gas too quickly.
Pros
Built-in piezo igniter
Easy controls
Large area heater
Cons
Very sensitive to wind
High rate of gas consumption
---
9. Martin CH3 Portable Heater
The Martin CH3 portable gas catalytic heater is more efficient than heaters that use flames. However, you should note that it is not for use indoors as there is an increased risk of carbon monoxide build-up with this unit.  With that being said, it is quite a neat package and can be easily carried around. It has an output rate of 3000 BTU/HR.
While being very portable, this unit can be tricky to start, doesn't produce a lot of heat, heats slowly, and can't be used indoors. This is better suited for well-ventilated outdoor use. We also didn't see clear information on the warranty of this product.
Pros
Efficient catalytic heating
Cons
Tricky to start
Low heat output
Not for indoor use
Heats slowly
Lack of warranty information
---
Buyer's Guide
We have reviewed the best tent heaters, but you should have a more general idea of what to look for in a tent heater.
Fuel Source
Tent heaters can either be electric or gas-powered. Electric tent heaters can be plug-in units or battery-powered. Now let's examine each fuel source a little more closely.
Electric
Electric tent heaters can be useful for use in RVs. In addition, if you set up camp close to a building, you will be able to run an extension cord and use a plug-in heater. Otherwise, you will have to look for a battery-powered unit. The problem with battery-powered units is that they have limited heat output and short battery life. If you are planning an extended trip, it may be better to use a gas-powered tent heater.
Gas
Gas heaters usually run on either propane or butane. They have higher heat output than electric models and will work for a longer period of time. However, are more complicated to use than electric tent heaters.
Heat Output
Tents are generally small and don't need very high values of heat output to keep them warm. Between 1000 – 5000 BTUs (British thermal units) is usually enough. The very best tent heaters will have an adjustable heat setting.
Portability
You will have to strike a balance between heat output and portability. If you have limited space, you might have to go for a smaller heater with a lower heat output.
Durability and Warranty
If you are buying a tent heater, it probably means that you are planning on doing some rugged, winter camping. You should go with a brand that is known for durable tent heaters to reduce the chances of running into any issues on your trip. Long-lasting equipment is also desirable; so try to go for a heater with at least a one-year warranty. This will ensure that you can enjoy your tent heater for many trips.
Conclusion
Our choice of best heater is the Mr. Heater F215100 MH4B Little Buddy Propane Heater. The best tent heater for the money is the Honeywell HCE100B Heat Bud Ceramic Personal Heater. Our premium choice is the Allegro Industries 9401‐50 Tent Heater. We recognize how daunting it can be to sort through the wide variety of heaters available on the market. There are also a few factors that you should take into consideration when buying a heater as you would have read in our buyer's guide. You may or may not have been familiar with this information before, but in any case, we hope that we have been able to assist.