10 Best Ozone Air Purifiers in 2022 – Reviews & Top Picks
Last Updated on December 11, 2021
Choosing an ozone air purifier can be a difficult task. There are so many models available that it's challenging to sort through them all. Add to that the fact that there is plenty of misinformation about ozone air purifiers and if they are safe to use, and it's no wonder someone might seek out help with making a decision.
We reviewed dozens of ozone air purifiers and we've seen the best and the worst that's available. We've chosen 10 models that we believe are worth looking over. We'll go over everything we like about each model and everything we don't like about it.
We've also included a buyer's guide where we break down every aspect of the ozone air purifier to give you a better understanding of how they work. Keep reading for our detailed reviews of each ozone air purifier, where we compare size, safety, output, and fan strength to help you make an educated purchase.
Let's look at the different models we have chosen to review.
---
A Quick Comparison of Our Favorites:
Image
Product
Details

Best Overall

Ivation Air Purifier

Durable design
Improves air quality
Purifies up to 3,500 square feet space
CHECK PRICE

Best Value

Enerzen Air Purifier

6,000 mg/hr
3-hour timer
Durable casing
CHECK PRICE

Premium Choice

New Comfort Air Purifier

UV lamp
Stainless steel body
Switchable between 6,000 and 12,000 mg/hr
CHECK PRICE

Airthereal Air Cleaner

10,000-mg/hr
Easy to use
Removes tough odors
CHECK PRICE

Mammoth Commercial Generator

5,000 mg/hr
Timer function
Easy operation
CHECK PRICE
The 10 Best Ozone Air Purifiers – Reviews 2022
1.  Ivation Ozone Air Purifier – Best Overall
The Ivation IVAOZP001 Ozone Generator Air Purifier is our choice for best overall. This furniture grade air purifier looks attractive and has the power to clean up to 3,500 square feet. It can clean using ozone or negative ions. Separate controls for the fan and the ozone generation help you dial in the perfect amount of cleaning power for your living space.
The only thing we didn't like about the Ivation is that the negative ion generator is adjusted using the fan control.
Pros
Cleans up to 3,500 square feet
Uses ozone and negative ions
Separate controls for fan and ozone
Cons
Ion generator tied to fan control
---
2. Enerzen O3 Air Purifier – Best Value
The Enerzen O-555 Commercial O3 Air Purifier is our choice for the best value, and after you look over what it has to offer, we believe that you will agree this is the best ozone air purifier for the money. The Enerzen features a compact industrial design, housed in a thick aluminum-alloy box with a durable carry handle. It provides ozone at the rate of 6,000 micrograms per hour to help with your odor eliminating needs. Controlling the unit is easy, and it features a three-hour timer that allows you to set it and leave the area.
The main issue with this model is that the timer switch is poorly designed and feels like it can break every time you use it. The fan is also a little noisy.
Pros
Durable casing
6,000 mg/hr
Three-hour timer
Cons
Poorly designed switch
Noisy
---
3. New Comfort Ozone Air Purifier – Premium Choice
The New Comfort Ozone UV Air Purifier is our premium choice, and it's for someone that wants a powerful air purifier and isn't afraid to spend a few extra dollars to get it. The New Comfort Oxone purifier features two levels of ozone creation. It's capable of providing ozone at the rate of 6,000 mg/hour for smaller areas and can also deliver ozone at the rate of 12,000 mg/hour for larger jobs. It also features a germicidal UV lamp to help disinfect and sterilize more efficiently. It features a two-hour timer and a stainless steel body.
The only thing preventing this unit from being our top choice is the high cost. The ozone creating plates are also very flimsy and will break easily.
Pros
Switchable between 6,000 and 12,000 mg/hr
UV lamp
Stainless steel body
Cons
High cost
Flimsy ozone plates
Humidifiers vs Dehumidifiers – What's the difference?
---
4. Airthereal MA10K-PRO Air Cleaner
The Airthereal MA10K-PRO is a high-capacity 10,000-mg/hour ozone generator. It features a simple user interface with only a two-hour timer to set. It uses a powerful fan to push ozone far into the room, and its housed in a sturdy metal box.
The downside to this air purifier is that it is a little too powerful for most homes, and as it works, it also creates a terrible odor that can linger far longer than the ozone. The powerful fan pushes the smell throughout the home.
---
5. Mammoth Commercial Ozone Generator
The Mammoth Commercial Ozone Generator is a professional-looking unit that provides ozone at the rate of 5000 mg/hour. Housed in a sturdy steel case, the Mammoth features one-knob operation. It can sterilize a 300-square foot room in just eight minutes.
While we reviewed this model, we found it to be a little too powerful. It also produced a strong odor almost as bad as the odors we wanted to remove.
Pros
5,000 mg/hr
Easy operation
---
6. One Earth Health Air Purifier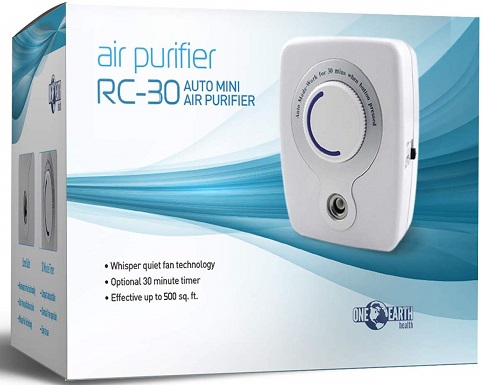 The One Earth Health Air Purifier is a small compact ozone generator. This model is small enough to use in your car or any small environment. It produces ozone for 30 minutes at a time and operates silently.
The single push-button operation makes it very easy to use. Still, it is also easy to accidentally press and start the device producing ozone, especially since it can fit in a pocket. Sometimes the smell produced by the unit was stranger than other times, suggesting an uneven output.
Cons
Easy to accidentally press
Uneven emission
Related: Energy efficient air-conditioners – Our top picks
---
7. Green Air 2.2 Classic Air Purifier
The Green Air SFA 2.2 Classic Air Purifier is a furniture grade Ozone purifier. It produces ozone to clean an area up to 3,500 square feet and includes a carbon filter to help increase the amount of odor removing power. The front panel features a digital viewscreen and easy to use rubber push-button controls that light up.
While we were reviewing the Green Air, we felt that even though the fan was quite noisy, it didn't move enough air for the charcoal to be effective.  It's also tricky to get at the filter to change it.
Pros
Easy to read control panel
Carbon filter
3,500-square foot reach
Cons
Loud fan
Doesn't move enough air
Tricky to change filter
Air purifiers with washable filters – Click here to see our top picks!
---
8. Concise Home O3 Air Purifier
The Concise Home air purifier is an industrial-strength ozone cleaner. This unit creates ozone at the rate of 10,000 mg/hour and it's easy to use with simple controls. An onboard two-hour timer lets you set the machine and leave the area. A durable metal case encloses the unit, and it has a powerful fan to push ozone into the room.
While we reviewed this unit, we noticed that the fan was a little noisy, and we thought that the power cord was too short. The timer dial was also cheaply made plastic.
Cons
Noisy
Short power cord
Cheap plastic timer dial
---
9. TREKOO Air Purifier
The TREKOO Air Purifier features a thin design that can lay flat on a surface, or it can hang on a wall. It will purify the air using either ozone or negative-ions, and it features a motion detector switch that tells the unit when to start producing ozone. It will run for two minutes when it detects a presence. If it runs three times in a row, it will shut down for two hours. This intermittent running can save power and increase safety.
While reviewing this product, we didn't like that it emitted harmful ozone while people and pets are in the room because of the health risks associated with ozone. The power cable is also a little short if you plan on hanging it.
Cons
Releases ozone in occupied space
Short power cable
---
10. VIVOSUN O3 Air Purifier
The VIVOSUN O3 Air Purifier is the last model that we must present to you. This model might not be as good as the top three, but there might still be something about it that interests you. This model will provide oxygen at the rate of 10,000 mg/hour. It has a powerful fan to push the air into the room and help cool the device. It has a two-hour timer to allow you to run the purifier unoccupied.
When we reviewed this unit, it was hard not to notice that some of the parts are cheap plastic, especially the timer knob. The on-off switch also feels low quality when you use it. It has a powerful fan, but we didn't think it put out as much ozone as the other 10,000-mg/hr models.
Cons
Plastic timer knob
Flimsy on-off switch
Questionable output
---
Buyer's Guide
Let's look at some of the things we need to look at when purchasing an ozone air purifier.
Ozone Benefits
Ozone is simply a molecule made from three oxygen atoms. The ozone molecule is highly reactive, and it quickly attaches itself to other molecules. When the ozone connects to smoke molecules as well as many other odor-causing molecules, it destroys them. This process can be very effective at removing odors. Ozone can also attach to some micro-bacteria, and in doing so, can kill them. When used in this way, the ozone acts as a sanitizer.
Ozone has a fresh smell and is particularly effective at removing cigarette odors, which charcoal filters have a difficult time expelling.
Ozone Dangers
Ozone is hazardous to your health and is considered ground-level air pollution. It can cause headaches, breathing problems, asthma flare-ups, and can even scar your lungs.
We recommend that you only use ozone cleaners in empty rooms and that you don't enter them until at least 30 minutes after the machine has stopped.
Ozone Production
Each machine will need to produce ozone. and they display how much ozone they create in milligrams per hour. The more milligrams a unit provides per hour, the better it is.
Range
How many square feet the machine will clean is a critical factor. You can find out how many square feet your room is by multiplying the length times the width. For example, if your room is 10' x 10', you need a purifier that can purify 100 square feet.
Timer
Many ozone air purifiers will have a built-in timer. This feature will allow you to set the timer to allow you the machine unattended.
Strong Fan
Fan strength is a critical element in the effectiveness of the ozone air purifier. With ozone, time is of the essence. A stronger airflow will push the ozone molecules further from the machine.
Additional Purification
Many Ozone air purifiers will come with other ways to clean the air.
HEPA Filters
HEPA filters use small glass fibers woven into a paper filter to remove particles from the air. A fan pushes contaminated air through the filter, and clean air emerges from the other side.
HEPA filters are the gold standard for air purification. They can remove particles down to 3 microns and are completely safe.
HEPA-Like
HEPA-like filters are simply off-brand filters. HEPA-like may be a reduced quality, but many are still beneficial.
UV Purification
Some air purification devices use ultra-violet light to sanitize the air as it passes through the system.
Negative Ion Purification
Many air purifiers use negative ions to clean the air. These devices send negatively charged ions into the air, which stick to positively charged particles in the air. When the particles cling together, they fall from the air and land on the surface below where they can be vacuumed and dusted.
Conclusion:
Hopefully, now that you have read over this article, you feel better about choosing an ozone air purifier. We stand by our choice for best overall. The Ivation IVAOZP001 Ozone Generator Air Purifier covers a large area; it uses negative ions along with ozone and features multiple controls. Our pick for the best value is also worth considering. The Enerzen O-555 Commercial O3 Air Purifier features a durable housing, 6000 mg/hour, and is significantly less expensive than many of the other models on this list.
If you have enjoyed reading through our reviews and our buyer's guide has helped you learn something new, please share our best ozone air purifiers reviews and top picks with your friends on Facebook and Twitter.