10 Best Outdoor Floor Fans of 2022 – Reviews & Top Picks
Last Updated on December 11, 2021
Outdoor floor fans are an excellent way to keep the air moving on hot days on the deck, in the garage, by the pool, or in the basement.
You may not put much thought into what you want in a fan until you actually need one.
There are many varieties and styles, and their portability makes them a popular purchase.
To help guide you, we've created a list of reviews for the best outdoor floor fans.
---
A Quick Comparison of Our Favorites
Image
Product
Details

Best Overall

Whirlwind Life Floor Fan

Quiet
Wireless
7-inch blades
CHECK PRICE

Best Value

Master PROFESSIONAL Floor Fan

12-inch blades
Tilt-angle head
3-speed settings
CHECK PRICE

Premium Choice

GeekAire Floor Fan

16-inch unit
All metal
Water-resistant
CHECK PRICE

Lasko Floor Fan

20-inch unit
Wall mountable
No tools required
CHECK PRICE

B-Air Floor Fan

Affordable
High airflow
Wall mountable
CHECK PRICE
The 10 Best Outdoor Floor Fans – Reviews 2022
1. Whirlwind Life Charging Floor Fan – Best Overall
The Whirlwind Life Charging Floor Fan is for the technology geeks who need a little air too. This fan is rechargeable and wireless and provides a USB power output for charging your cell phone. A full charge takes three to four hours and provides six to 24 hours of run time.
The blades are 15.7-inch metal and run quietly. This is a lightweight fan of three pounds, making portability a breeze. It can be used indoors or outdoors and will make a cool addition to your RV for weekend camping or hunting. It has an LED display with an on/off button and controls for fan speed. The tilt-head allows for 120 degrees of rotation.
While this fan can be used outdoors, it's best not to leave it out in the elements with the exposed USB port and digital controls. Although it's a little pricey, it's lightweight and wireless, and we pick this fan as our best overall choice.
Pros
Wireless
7-inch blades
Quiet
Lightweight
---
2. Master PROFESSIONAL Floor Fan – Best Value
The Master PROFESSIONAL MAC-12F Floor Fan is ideal for indoor or outdoor use and has a 6-foot power cord, as well as a durable industrial motor with a tilt-angle head and all-steel construction. It offers three-speed settings, with 12-inch steel fan blades delivering airflow at 1,500 CFMs. This unit weighs about 9 pounds and has a handle for comfortable portability. It's also under the umbrella of a one-year warranty.
This pick is a smaller fan and works best in a small space. If you need a fan to dry out a floor or cool off a large room, this fan may not generate enough airflow to fulfill your needs. Of course, using several of them in a large room is always an option. For the size, it's also surprisingly noisy, so it's not ideal for a nighttime bedroom fixture. So having several of them in a large room may be deafening if you're noise sensitive.
For the price, all-steel construction, and portability, we believe this is the best outdoor floor fan for the money.
Pros
Lightweight
12-inch blades
Steel construction
Tilt-angle head
Three-speed settings
6-foot cord
---
3. GeekAire Outdoor Floor Fan – Premium Choice
The GeekAire Rechargeable Outdoor Floor Fan is another choice for the technologically inclined consumer. It will fully charge in four to five hours and run continuously for three to 24 hours. It's equipped with a power bank to charge other devices, like your cell phone. The fan has a 120-degree tilt head and is an ample size of 16 inches, providing a maximum airflow of 2,000 CFMs. There are variable speed settings and a battery-life indicator on the control box. It's water-resistant with all-metal construction and operates quietly too. However, it's not a good idea to leave it out in the rain.
Although it has a handle for portability, this model is a little heavy at nearly 14 pounds, perhaps speaking to its durability. Users praise the quietness during operation. This pick is an expensive model, having the highest price on this list, but if you live in an area with continuous power shutoffs, this may be your new fan.
Pros
16-inch unit
Wireless
Quiet
High airflow
Water-resistant
All metal
---
4. Lasko 2264QM Floor Wall Fan
The Lasko 2264QM Floor Wall Fan uniquely transforms from a floor model to a wall model with an included wall mount bracket. It easily converts by clipping the fan stand into the wall mount bracket after installation. It's a large unit at 20 inches, with a pivoting head and three speed choices. The Lasko delivers a maximum airflow of 3,670 CFMs. The all-metal construction weighs about 15 pounds and has a built-in handle for portability. Additionally, no tools are required to assemble the fan and stand.
This unit isn't water-resistant, so it should not be left out in the rain, and the manufacturer cautions against using it outdoors in general. If you're looking for a fan to use in a barn, this one doesn't meet the requirements for agricultural use. However, if you need a fan for the garage or basement, this may be a good fit for you.
Pros
20-inch unit
Affordable
High airflow
Wall mountable
No tools required
Cons
Indoor only
No agricultural use
Not waterproof
Noisy
Also see: The top Lasko tower fans of the year!
---
5. B-Air SAFF-20 Home Floor Fan
The B-Air SAFF-20 FIRTANA-20X Home Floor Fan is a 20-inch model with three speed settings and a tilt-angle head. As it has a maximum airflow of 4,650 CFMs, you'll have to be careful that it doesn't blow you away. It has an open motor, so keep it out of the rain. It has an all-metal housing with small grid spacing for safety. This fan can be wall-mounted with the separate purchase of a wall mount bracket. It weighs 11 pounds and has a carrying handle for comfort.
If you like the cooling effect, as well as the white noise to help you sleep, this may be your choice at an affordable price. However, if you're diligent with fan cleaning, you won't like this one. With so many small screws holding the housing together, cleanup is a cumbersome process. This unit comes with a one-year warranty.
Pros
Affordable
20 inches
High airflow
Wall mountable
Cons
Not waterproof
Noisy
Difficult to clean
Other outdoor gear:
---
6. Patton PUF1810C-BM Outdoor Fan
The Patton PUF1810C-BM High Velocity Fan is ideal for garages and workshops. It's an 18-inch fan with all-metal construction, three speed settings, and an adjustable tilt head. Weighing in at 11.5 pounds, it also has a carrying handle for easy moving.
Although this is a sturdy fan with powerful airflow, it's loud. A common complaint among users is that the noise level makes this pick less than ideal for a bedroom setting. Over time, the tilt head may get lazy, and you'll find the fan cooling off the ceiling.
If you need a basic, decently sized fan for your workshop or basement, this may be the right choice for you. This unit also comes with a three-year warranty.
Pros
Affordable
18 inches
All-metal construction
Lightweight
Also read: Tower Fan vs Box Fans – What's Better?
---
7. Remington 20REM-F Floor Fan
The Remington 20REM-F Floor Fan is a 20-inch model with all-metal construction and can be wall-mounted with the appropriate bracket (purchased separately). It has three speeds and a pivoting fan head. The high airflow maximizes at 4,650 CFMs. It's a little heavier than others at nearly 14 pounds, although it does have a carrying handle. It has an open motor and is not waterproof, so it isn't wise to leave it out in the elements.
It has a short cord length of nine inches, so an extension cord is likely necessary. This fan isn't too loud but tends to make a buzzing sound that users find annoying.
Pros
Affordable
20 inches
High airflow
Steel construction
Cons
Short cord
Slightly heavier
Buzzing noise
---
8. XtremepowerUS Industrial Floor Fan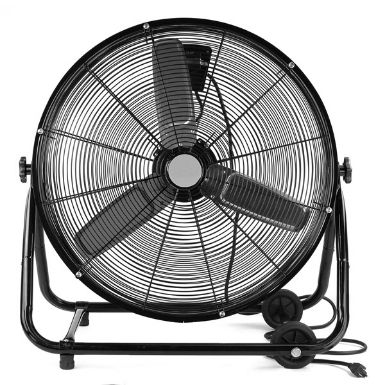 The XtremepowerUS Industrial Floor Fan is a more substantial model at 19 pounds and 24 inches in size. Fortunately, it's also on six-inch wheels, making it easier to move from location to location. It has a pivoting head to direct airflow and circulation. The airflow maximizes at 6,400 CFMs. As an industrial fan, it's ideal for use in a barn or workshop. If you like top speed, this may be the right choice for you. Users like that this is a quiet model, and the manufacturer indicates that new technology reduces the noise level by 30%.
There are a few downsides of this model. This unit does have wheels, but there is no handle to assist in wheeling the unit to another location, making portability an inconvenient process. While many fans can be used right out of the box, this unit requires assembly of many parts. It isn't waterproof, so don't leave it out in the rain.
This model is pricey and may be too much for a bedroom setting. However, if you prefer a heavy-duty fan running while you sleep, this may be ideal for you.
Pros
24 inches
Heavy duty
Wheels
Cons
Expensive
Assembly required
Noisy
Awkward portability
Not waterproof
Read about all 7 different types of fans and their uses – Here!
---
9. Hurricane 736476 Floor Fan
Nearing the bottom of our list is the Hurricane 736476 Floor Fan. This pricey pick is a 20-inch model, blowing out a maximum of 4,500 CFMs. It has an adjustable tilt head, three speeds, and a cord length of 12 feet. It's also super lightweight at three pounds and wall-mountable. It has an open motor, so it isn't waterproof nor suitable for dusty areas like barns.
Although the housing is metal and the blades are aluminum, the internal gears, base, and switches are plastic, leaving durability in question. If you're looking for a quiet fan, this one isn't for you. However, many users note that it lives up to its name: If you need hurricane-strength speed, this may be the fan for you, as long as you aren't concerned about the noise. Ideally, this fan is best suited for an outdoor covered porch, basement, or garage.
Pros
20 inches
Lightweight
High airflow
Cons
Pricey
Not waterproof
Not for agricultural uses
Loud
Internal plastic parts
---
10. PMX HV-20K Floor Fan
The PMX HV-20K Floor Fan has a copper motor with a thermal protector and maximum airflow of 5,828 CFMs. The head has a 110-degree tilt ability with 20-inch blades. It's a lightweight product of 11 pounds, and it has a carrying handle for ease and a six-foot cord. This model is wall mountable and comes with a wall mount bracket.
As the last on our list, this fan is an average model at an affordable price, though it's loud even at the lowest setting. Although it has all-metal construction, the metal is flimsy. However, this unit does come with a one-year warranty. If you're looking for a mega air mover in a shop or basement setting and not concerned about noise, this is an affordable choice for the wind it provides.
Cons
Loud
Flimsy construction
Low durability
Short cord
---
Buyer's Guide
Having an outdoor floor fan allows you to stay cool in outdoor living spaces, cool things down in your workshop, cool off Fido, or dry out a wet basement floor. A louder model helps drown out other sounds that you may find annoying. One of the most significant advantages of a floor fan is its portability, giving you the option to use it wherever.
While outdoor fans are designed to be portable and durable, most aren't waterproof or capable of holding up in foul weather.
When you're looking for a floor fan to help keep you cool, help you sleep, or keep the air moving about, there are several things to keep in mind, such as adjustable settings, airflow, size, construction material, and portability.
Check out our reviews for the top bathroom exhaust fans here!
Adjustable Settings
You want the fan to have flexibility for airflow settings, which are typically low, medium, and high, while realizing that the higher the speed, the more noise the fan will make. Also, consider if you can tilt the fan head and if there is an oscillating option. With a tilting head, airflow can be positioned to allow for circulation without blowing directly on you. With an oscillating option, everyone in the room can benefit.
Airflow
The higher the airflow in a fan, the better if will blow. Airflow is measured in CFM, or cubic feet per minute. CFM is a velocity measurement at which air flows. The higher the number, the stronger the breeze. If you want a robust model, look for a high max number.
Size
Depending on where you want to use a floor fan, you'll need to choose a model that fits with the available space. You'll also want a fan that will provide the air circulation you desire — look at the length of the blades and how many there are. The fans in our review above range in size from 12 inches to 24 inches.
Construction Material
You want a sturdy fan for extended durability. Metal or steel construction will hold up longer than plastic. But metal or steel fan blades will make more noise than plastic. If the interior components of a fan are plastic, it may not last a long time.
Portability
Though it depends on how often a fan will be moved and who's moving it, you probably want a comfortably portable model. Pay attention to the weight and if there is a carrying handle for convenience.
Some fans have a two-prong plug, and others have a three-prong plug. Ultimately, it's about safety. The third prong is the grounding prong that keeps electricity in the wiring to prevent injury or fire, should something go wrong with the device. A two-prong plug is typically on a fan of plastic construction or another non-conductive material.
Conclusion:
We hope our reviews have helped you identify the fan that's ideal for you. We'll give you a quick recap of our favorites. Our number-one and best overall pick is the Whirlwind Life Charging Floor Fan. It's an affordable wireless model that can recharge and has a USB port to charge a cell phone or other digital devices. Our runner-up and best value choice is the Master PROFESSIONAL MAC-12F Floor Fan. It's a smaller model that will fit nearly anywhere and is affordable. As our premium choice, the GeekAir Rechargeable Outdoor Floor Fan is perfect for those who can't live without technology. It's wireless, rechargeable, and can charge other devices. Good luck on your fan-searching journey, and stay cool!