10 Best Low Profile Ceiling Fans of 2022 – Reviews & Guide
Last Updated on December 11, 2021
The right ceiling fan is a staple of the room it occupies. Simultaneously a décor piece and an efficiency tool that keeps your house comfortable and helps you save money on your cooling, ceiling fans are truly invaluable.
However, the wrong ceiling fan can be unsightly and ineffective. In this guide, we look through ten of the best low profile options on the market.
Our list features products for people on a tight budget as well as those under budget constraints. With that in mind, read on for some low-profile ceiling fan reviews.
---
A Quick Comparison of Our Favorites
Image
Product
Details

Best Overall

Hunter Ceiling Fan

Winter mode
Multiple speed settings
Lifetime warranty
CHECK PRICE

Best Value

Prominence Home Ceiling Fan

LED light
Very affordable
Good for winter and summer use
CHECK PRICE

Premium Choice

Casa Vieja Ceiling Fan

LED lights
Stylish design
Wireless remote
CHECK PRICE

Minka-Aire Ceiling Fan

LED light
Unique design
3-speed settings
CHECK PRICE

Portage Bay Ceiling Fan

Affordable
Versatile
Impressive airflow
CHECK PRICE
The 10 Best Low Profile Ceiling Fans – Reviews 2022
1. Hunter 59247 Low Profile Ceiling Fan – Best Overall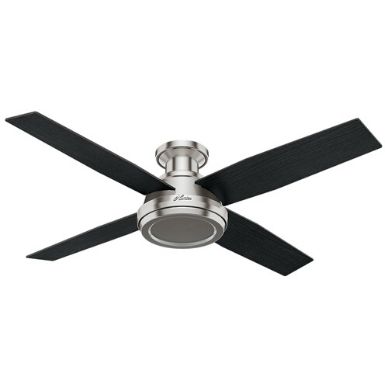 The Hunter is a moderately priced ceiling fan with an attractive design. It features a winter mode that optimizes the blades to circulate warm air in the cold months and cold air during the warm months.
The blades feature multiple speed settings which can be selected from a handy wireless remote. Meanwhile, the high-efficiency motor is designed to be as silent as a whisper.
There is one exception to this—on lower speed settings, the motor tends to emit a dull hum. It is difficult to determine if this con is a flaw that all fans will experience but it is something to look out for.
Last but not least, the fan also features a lifetime warranty that will keep you covered if something goes wrong.
Aside from the motor humming, there is little in way of cons. It's a good fan that consistently gets the job done.
Pros
Winter mode
Multiple speed settings
Wireless remote
Lifetime warranty
Cons
Motor tends to hum on lower speed settings
---
2. Prominence Home Low Profile Ceiling Fan – Best Value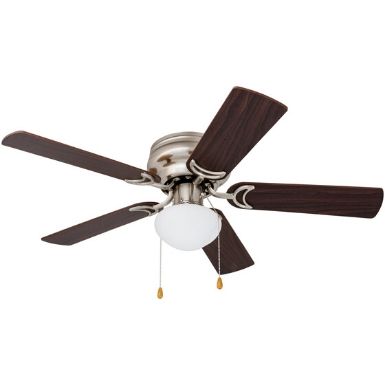 The Prominence Home fan will be good for buyers on a budget. It's compact and it features an LED bulb style light that is effective and will last for years without needing to be changed.
The four blades produce a significant amount of airflow, and they can be reversed to work all year long.
The lights, as well as the blades, are controlled via traditional drawstrings. Last but not least, the manufacturer advertises that it is very easy to install. However, even with that being the case, the vast majority of users will probably need to hire a professional.
There are two cons to look out for. The first is that this fan simply does not cool quite as quickly as some of the other options on our list. It also tends to be on the noisier side.
Still, if you are a buyer on a budget, this is a great option for you.
Pros
Very affordable
LED light
Good for winter and summer use
Cons
Noisy
Not as effective as some of the options on our list
---
3. Casa Vieja Low Profile Ceiling Fan – Premium Choice
Our premium choice, the Casa Vieja is great for people that want a statement piece in addition to a functioning fan. Its stylish design is sure to tie any room together.
It's also outfitted with a variety of high-end features that keep it competitive with all of the other great options on our list.
A handy wireless remote allows you to choose from a variety of different speed settings. It also gives you the ability to control the lights fitted on the fan. The LED bulbs are efficient and can be dimmed to suit a variety of different moods.
The big issue here is price. Budget-minded buyers are going to want to look elsewhere.
Pros
Stylish design
Wireless remote
LED lights
The best outdoor floor fans – See our reviews here!
---
4. Minka-Aire F844-DK Ceiling Fan
The Minka-Aire features a unique design concept that will be nice for people looking to shake up their décor. Like many of the options on the list, it can be operated via wireless remote.
The unit also features an LED light that can be dimmed via the remote. Unfortunately, the price and performance don't sync up extremely well. It is one of the more expensive options without outperforming the budget buys.
The unique shape of the fan blades seems to come at the price of efficiency. They still work, but they don't generate as much airflow as some of the other options on our list.
Pros
Unique design
Wireless remote
LED light
Cons
Value concerns
Doesn't generate enough airflow
Lasko may be the brand you're looking for – See their top tower fans here!
---
5. Portage Bay 50254 Ceiling Fan
The Portage Bay is a simple but affordable option that's perfect for buyers on a budget. The moderate price tag is the biggest selling point of this unit. However, it does still benefit from a dimmable LED light and five blades that produce an impressive airflow.
In terms of cons, there are several things to keep in mind. First and foremost, this is one of the louder options on our list, which in a sense undermines the "low-profile" nature of the fan.
Some users have also reported that the motor stopped working after a relatively brief period of use. Most people probably won't experience this issue but it is something to be aware of.
Pros
Affordable
Impressive airflow
Cons
Quite noisy
Motor problems reported
---
6. Casablanca 54103 Low Profile Ceiling Fan
The Casablanca is a moderately priced ceiling fan intended for indoor use. This unit features several speed settings making it optimal for a variety of different situations.
The motor is controlled via pull chain, and the fan includes five blades that produce a significant airflow. However, the numerous blades do come with some cons. For one thing, they make the fan very noisy to use. They also result in more weight which puts a strain on the motor. It's not a bad product but it does include issues that undermine its value.
Pros
Moderate price
Impressive airflow
Several speed settings
Cons
Noisy
Weight puts strain on the motor
---
7. Emerson Low Profile Ceiling Fan
The Emerson features pre-oiled hardware that is designed to make the fan run smoothly right out of the box. The reversible blades are great for summer and winter, and the various speed settings make it optimal for people with a range of preferences.
However, the Emerson is fairly basic. Unlike most of the other options on our list, it doesn't even feature a light fixture. You can find products with features that exceed those found here for a better price. Still, if you are partial to the design of this fan it will be an effective choice.
Pros
Pre-oiled
Various speed settings
Reversible blades
Cons
No light fixture
Value concerns
---
8. Honeywell 50183 Glen Alden
The Honeywell is a simple but effective ceiling fan that features pre-oiled hardware and easy installation. The five blades generate plenty of airflow, and like many of the choices on our list, the blades can be reversed for use during winter.
It also includes LED lights and can be controlled via two drawstrings. It is a good choice for budget-minded buyers, but it is worth noting that this is one of the noisier choices on our list today.
That said, the price is right. Budget-minded buyers may be willing to overlook the moderate shortcomings to choose an affordable product that gets the job done.
Pros
Plenty of airflow
Reversible blades
What about for the winter? See the top budget space heaters here!
---
9. Hampton Bay Hugger Ceiling Fan
The Hampton Bay Hugger is a very basic option that stands out mostly for its low price tag. It is one of the most affordable options on the list, making it good for budget-minded buyers. However, aside from being affordable, the fan has little else going for it.
For one thing, it's not very powerful. The speed settings all feel very similar, and none of them generate much airflow. It is also quite noisy. If you're in a pinch and just need something basic, this will be an appropriate choice. Otherwise, you may want to spend more to get more.
Cons
Noisy
Speed settings are virtually indistinguishable
Not very much airflow
---
10. Westinghouse Lighting Indoor Ceiling Fan
We end the list with the Westinghouse. At first glance, this fan looks quite appealing. It has five blades, which in theory should generate lots of airflow. It also includes an LED bulb and a wireless remote control that can be used to operate the various settings.
In practice, however, the fan leaves much to be desired. The settings all feel more or less the same, and the fan tends to be very noisy. It is also one of the bulkier options on our list which may undermine the goals of the buyer looking for something that is low profile.
Finally, you should be aware of the fact that this is one of the most expensive fans on the list. For the same money you spend here, you can get a fan that doesn't have nearly as many issues.
Pros
LED lights
Wireless remote control
Cons
Bulky
Noisy
Speed settings all feel the same
Major value concerns
---
Buyer's Guide
Here are some buying considerations that should bring clarity to your buying process.
Appearance
Appearance matters when it comes to ceiling fans. The right option will tie your room together. Good ceiling fans throughout the house can even add an impalpable charm to the home that may even increase resale value when it comes time to put your house on the market.
This guide details ten of the best low profile ceiling fans. Under these criteria, you are likely to prioritize options that are compact but attractive. A good low profile ceiling fan will look decent and perform well without drawing an excessive amount of attention.
Décor Counts
We talked about appearance in the last heading. However, the best-looking fan in the world may not be suitable for every home. There are many different aesthetic options when it comes to ceiling fans. It isn't enough to choose something that looks good on its own, you will also want to look into options that complement the other accents in your home.
There are literally thousands of different fans out there, so you should definitely be able to find something that looks good.
What does "hugger" mean?
You may have noticed that most of the options are labeled as "hugger" ceiling fans. This means that they are mounted directly to the ceiling with very little clearance between the blades and the motor. In other words, this is the design component that most contributes to the "low-profile" nature of the fan.
You can simplify your search for the right fan considerably by limiting your options to products marketed as "hugger".
Size of The Room
Obviously, different rooms have different needs. Most truly "low profile" fans tend to feature smaller motors which don't make them great for cooling larger spaces. However, if you are trying to address the needs of a bigger area, you can explore your options.
More powerful fans tend to cost more money, but they are very necessary for bigger spaces.
Noise
Ceiling fans can be very noisy, but many high-quality units will feature noise dampening technology that will help them to run quieter. Remember, when it comes to keeping a low-profile the appearance isn't the only thing that matters. You also want a product that isn't excessively loud.
Speed Settings
The more speed settings that your fan has, the better suited it will be for year-round use. Higher speed settings are excellent for the hot summer months, while lower speed settings can still be used for some comforting "white noise" that many people appreciate year-round.
Lights
Most fans also feature lights. If the light component of the fan is important to you, pay particular attention to your options. You can find fans with LED compatibility. These units tend to be brighter and the bulbs last longer than traditional options.
Remote:
Some fans can be activated by wireless remotes. This feature is handy for obvious reasons, but it does have pitfalls as well. Ceiling fans that are exclusively operated via wireless remotes are useless should something happen to the controller. Should you lose or damage the remote, you may not be able to use the fan at all.
That in mind, it may be to your benefit to invest in something that uses both a remote and traditional drawstrings for convenience.
Winterized
Some fans feature reversible blades that will allow you to operate the blades at an "updraft" during the winter. This feature is optimized for circulating warm air, allowing your fan to help with the heating process as needed.
Fans that feature a winter mode can help you save money on heating, making them an economical choice.
Price
Ceiling fans don't have to break the bank. More affordable options won't necessarily benefit from all of the features we have listed here, but they will get the job done.
Just keep in mind that no matter what the price of the fan, you will also need to factor in an additional $50-100 to cover the price of installation.
Indoor/Outdoor
You will also need to factor in where the fan will be used. For example, fans that are destined to operate on a front porch or patio have very different needs than units that are to be outfitted in the bedroom.
Most options are very upfront about where they are designed to be used, but it is still something to pay attention to as you work towards finalizing your decision.
Warranty
Fans feature lots of moving parts. That also means there is plenty of room for something to go wrong. A good warranty will keep you covered if that the motor chooses to poop out unexpectedly. Some fans feature lifetime warranties.
Number of Blades
Finally, you also want to think about the number of blades featured on the fans. Options with few blades produce less drag which is better for the motor. However, they also produce less airflow.
Most options will include 3 or 4 blades.
Conclusion
You've read our low profile ceiling fan reviews, but have you finalized your decision? With ten awesome options, choosing is often easier said than done.
While we can't tell you what to buy, there are a couple of options we can spotlight. For example, if you want the best option you can get your hands on our top choice, the Hunter 59247 Indoor Low Profile Ceiling Fan could be to your liking.
However, there are also good choices for budget buyers. Our best for the money choice, the Prominence Home 80029-01 Low Profile Ceiling Fan will be an attractive and effective fan for buyers on a budget.
Of course, now that you know all about ceiling fans you can make your own informed choice!