4 Best Gas Garage Heaters – Reviews & Top Picks 2022
Last Updated on December 11, 2021
Do you use your garage for work, your craft, or your hobby and wish that it was warmer so that you can use it year-round? It doesn't matter if you are someone who sits at a table painting crafts and need the temperature at a higher level, or a mechanic, physically moving around and generating body heat that allows you to keep it at lower levels. There are a lot of different types of heaters on the market these days that can get that job done for you.
The question is, how big is the area that you want to heat? Is it just a small workroom that you have made in the back of it? Do you need to heat a whole one- or two-car garage? The size of the area that you need to heat is the most important factor in choosing which kind of heater you need to purchase.
We've put together some reviews of the best gas garage heaters on the market today. We'll walk you through the pros and cons of each model so that you get a good feel for each one. We'll also include tips about what makes the best garage heater and how much energy it will use, and discuss some general safety features.
Comparison (updated in 2022):
Image
Product
Details

Best Overall

Mr Heater Big Maxx Heater

Highly efficient
Extremely quiet
Heats up to 2000 sq. ft.
CHECK PRICE

Dyna-Glo Heater

Variable speeds
Natural gas ready
Heats up to 1000 sq. ft.
CHECK PRICE

Best Value

Mr Heater Gas Heater

Durable
Auto shutoff
Heats up to 225 sq. ft.
CHECK PRICE

Heatstar Overhead Heater

Easy to install
Thermostat controlled
Heats up to 600 sq. ft.
CHECK PRICE
The 4 Best Gas Garage Heaters:
1. Mr Heater Big Maxx Natural Gas Heater – Best Overall
Of all the garage heaters that we tested, we've found the Mr. Heater F260560 Big Maxx natural gas heater to be the best natural gas garage heater on the market today. It can efficiently heat up to 2000 square feet, making it a good choice when you have a larger area of space to heat.
Even though the directions for installing this heater might be confusing to some, it's very easy to mount. It's designed for right or left side piping, electrical, and flue connections. All it takes is simply rotating the unit. It also allows for the exhaust to be horizontal or vertical, however, the kits for setting up the venting are sold separately. If you decide that you don't want to hook the heater up to your natural gas, it's easy to convert this system to propane.
This heater is extremely efficient and will effectively keep your garage warm. The motor on it is also extremely quiet, so you won't have issues trying to talk over it to whomever you may be working with.
Pros
Allows horizontal & vertical venting
Easy to mount & install
Heats up to 2000 sq. ft.
Extremely quiet
Highly efficient
Cons
Venting kits sold separately
Directions hard to understand
---
2. Dyna-Glo 30,000 BTU Natural Gas Heater
The Dyna-Glo BF30NMDG natural gas heater comes ready to heat up to 1,000 square feet. Since the average two-car garage is 676 square feet, this heater is the perfect size for you.
Since this heater runs off of your natural gas, there is no electricity required. This makes it very handy for those cold days when you might find yourself without power. One of the issues with this unit is the fact that fuel conversions are not permitted. You're stuck using your natural gas, even if you prefer to use propane. It lights up easy every time, though, making it very dependable for everyday use or for backup heat in emergencies.
There are three different speeds that you can choose from and it will pump out a steady stream of high heat until it reaches your desired temperature. The interesting thing about having a 3-position gas valve is that there is only one flame that stays the same height for each setting. There's no change to the amount of gas used to regulate three different BTU outputs, so we aren't really sure how it has three choices.
Another issue that we have with this heater is the fact that it doesn't come with a thermostat. There's no way to automatically regulate the temperature. You'll have to manually control it.
Pros
Natural gas ready
Variable speeds
Heats up to 1000 sq. ft.
No electricity needed
Cons
Fuel conversion not permitted
No thermostat
---
3. Mr Heater F232000 Gas Garage Heater – Best Value
The great thing about the Mr. Heater F232000 MH9BX heater is that it is approved for indoor or outdoor use. It doesn't mount to anything, so you have the ability to move it around. You can use it in your garage or out on your back porch. Flexibility is nice. You don't live in your garage. Being able to move it around can allow you to get more use out of it.
This heater is great to take with you on camping trips. It has a handle that folds away when you're not using it, and it connects directly to any size can of propane gas. One of those small green cans will run about four to five hours on a medium-low setting, or about two hours on high. It's also great to use when you need emergency heat.
You can feel safe wherever you use this heater because it will automatically shut off if the unit gets tipped over, if the pilot light goes out, or if it detects low oxygen levels. You'll need to use this heater in a place that has some ventilation or it will produce carbon monoxide. You also need to be careful with this heater, because the flame in the element is exposed. We don't recommend leaving this unit unattended or alone with small children.
This Mr. Heater is pretty easy to take apart to clean or perform any maintenance. That's a good thing because this unit requires a lot of maintenance. It's very temperamental and you'll frequently find yourself troubleshooting why it isn't running smoothly. It's easy to work on, but did you buy it so that you could tinker with it, or did you purchase it because you need heat?
Pros
Indoor & outdoor use
Auto shutoff
Heats up to 225 sq. ft.
Durable
Cons
Exposed flame
Temperamental
Requires a lot of maintenance
We reviewed the top RV Vent Fans – Click here!
---
4. Heatstar F125444 Overhead Gas Garage Heater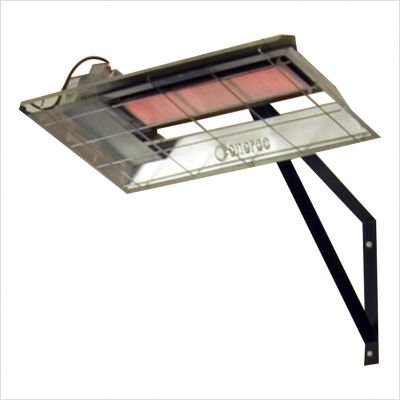 The Heatstar by Enerco F125444 Radiant overhead gas garage heater will heat up to 600 square feet. It is recommended that this unit be installed 7 to 9 feet in the air. It's easy to install because there isn't any electricity involved. Having no electricity also means not having a fan to blow the heat around, so it doesn't heat too evenly. You get really hot when standing next to it and cooler the further you move away from it.
When installing, we found that the area where the back wall bracket mounts is pretty flimsy. You may want to consider adding some stronger steel to support the heater better. Also, make sure that you put your heater in a place where dampness isn't an issue. This unit puts out a lot of moisture, especially when there isn't a whole lot of ventilation. If you don't have good ventilation, you may need to get a fresh air intake to keep the unit from creating carbon monoxide.
Pros
Thermostat controlled
Easy to install
Heats up to 600 sq. ft.
Cons
No fan
Flimsy in areas
Puts out a lot of moisture
Needs ventilation
You may also like: Gas vs Electric Water Heaters
---
User Guide:
Tips for choosing the right natural gas garage heater for your needs.
What type of heater do you prefer?
1. Convection Heater:
The convection heater works a lot as your oven does. The air circulates inside of, and around, the heating elements. Once the air is warm, it expands and rises and is distributed into the space around it. Even though it can run off of natural gas, it also needs electricity. You'll need to have an electrical outlet available to you that is near the unit. Heaters work the best when your garage is insulated to help keep the cold air out and the warm air in. Make sure that you don't seal it up too much, though. Heaters need ventilation to allow the air to circulate and not turn into carbon monoxide.
2. Infrared Heater:
The ared heaters run completely off of natural gas; no electricity is needed. This makes for a great choice when you need an emergency heat supply.
What feature should you look for in a garage heater?
Know the square footage of the space that you're looking to heat. It's wise to purchase a heater that will cover an area slightly larger than your current requirements. Most garage heaters can efficiently heat a two- or three-car garage.
Most heaters come with a thermostat that allows you to adjust the heat to the level that you want. You'll want to double-check that the model you're looking at has one, or you'll have to purchase an external one also.
Make sure that the heater that you're looking at has sturdy mounting brackets. All heaters should have them, but it's better to be safe than sorry.
Where can I put my heater?
Mounted heaters
The most common place to mount a gas heater in a garage is on the ceiling, however, they can also be mounted to the wall. If you do mount it to the wall, you want to put it as close to the ceiling as possible because these heaters generally blow down. High mounts are also safer because the cords aren't lying around on the floor for you to trip over.
Mountable heaters are usually larger than portable ones and are made better too. You'll find that they're close to commercial quality. This helps determine how your unit will function and how long its lifespan will be. The only real drawback is that they cost more up-front than portable heaters do.
2. Portable heaters
No matter what type of portable heater that you have, they focus only on where you need heat the most. They do heat up fast but they don't spread the heat around very well. This makes some of them good for only one person to use. Portable heaters need air to ventilate. Many of them can give off fumes or quite a bit of water vapor that won't dissipate without it. Portable heaters are less money out of your pocket up-front and may be more economical to operate, but they aren't as powerful as mounted heaters.
What are the advantages of having a natural gas garage heater?
Gas heaters can give you all of the self-contained heat that you will need.
Many gas heaters don't require the use of any electricity. These heaters are great to have around for those times that you lose power and need emergency heating.
Gas heaters are simple to use and they do a good job.
They're safer for the environment since they burn natural gas.
See: The best tabletop heaters on the market!
What safety measures should I take with my gas garage heater?
Make sure it has a carbon monoxide monitoring device that will shut the heater off if oxygen levels are too low.
If you're using a portable heater, make sure that it isn't too close to anything flammable and don't leave it unattended. Many of these heating elements are out in the open.
Put your portable heater somewhere that you won't trip and fall over it. Make sure that it has an emergency shutoff setting if it does get knocked over.
Now that we've told you what to look for and how to use gas garage heaters, let's do a quick review of our top four:
Mr. Heater F260560 Big Maxx Natural Gas Heater – Best Overall
Dyna-Glo BF30NMDG 30,000 BTU Natural Gas Heater –
Mr. Heater F232000 MH9BX – Best Value
Heatstar By Enerco F125444 Radiant Overhead
Hopefully, our reviews have helped you understand the different gas garage heaters that are out there. Shopping online can be overwhelming because there are so many different choices—even more than if you walked into a store. We hope that now that you've read our reviews, you have a better idea of how gas garage heaters work and know what to look for when shopping for one. You should have more confidence that you'll choose the one that is right for you.
Also, here are some other types of garage heaters we have reviewed: