5 Best Electric Baseboard Heaters of 2022 – Top Picks & Reviews
Last Updated on December 11, 2021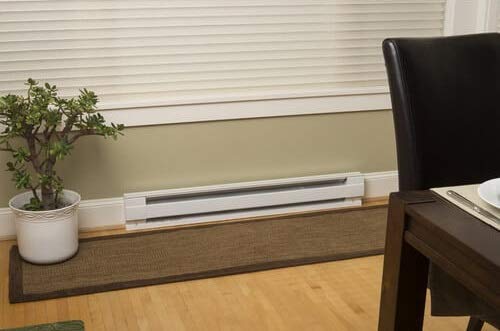 Winter can be brutal and sometimes your furnace just doesn't effectively handle your needs. Maybe you just need to give it a little help in the room where you spend most of your time. Maybe you have a room that you don't use often, so you don't have your furnace vents open to warm it; you only want it warm when you're in there. Either way, an electric baseboard heater can be the solution that you're looking for.
There are a lot of different electric baseboard heaters on the market these days. They come in all different physical sizes and produce differing amounts of heat. You'll need to know the size of the room that you want to use it for to make sure that you choose one that is suitable to handle that space.
Here we have put together some reviews of the best electric baseboard heaters that are currently available in stores. We will walk you through the pros and cons of each model so that you get a good feel for each of them. We'll also include a user guide with tips on what to look for in your heater, how to use it safely, and how to save money while using it.
---
A Quick Glance at the Winners of 2022
Image
Product
Details

Best Overall

Fahrenheat Hydronic Heater

Durable
Cool to the touch
Overheat protection
CHECK PRICE

Dimplex Electric Heater

Easy to reposition
Heats up to 250 sq. ft.
Automatic thermostat
CHECK PRICE

Best Value

Cadet Electric Heater

No cord
Heat up to 150 sq. ft.
Powder coated finish
CHECK PRICE

King Electric Heater

Heats up fast
Silent operation
Easy installation
CHECK PRICE

Optimus Convection Heater

Quiet
2 settings
Overheat protection
CHECK PRICE
The 5 Best Electric Baseboard Heaters
1. Fahrenheat PLF1004 Hydronic Baseboard Heater – Best Overall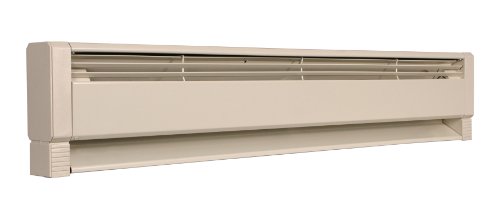 If you're looking for a safe, quiet, and efficient heater, then the Fahrenheat PLF1004 Hydronic baseboard heater is for you. It's made of highly durable products and is designed to keep the heating elements clean. Both of these are important for keeping your heater working efficiently in the years to come.
This baseboard heater gives off the amount of heat needed to heat your room without getting too hot to touch; you don't have to worry about young children or pets getting burnt if they get too close to it. It's also designed to keep dust, and any other particles that are in the air, away from the heating elements. This is important, as it's essential to keep your heating elements clean for this unit to work as it should.
The Fahrenheat PLF1004 has a thermostat on it that allows it to start on its own when the room needs to be warmed, or to shut off when it reaches your desired comfort level. The nice thing about this particular unit is that it functions without creating all of the strange popping noises that you hear with a lot of the traditional baseboard heaters. It does make an expansion sound when it is heating up or cooling down, but it's much quieter and not nearly as annoying. It also has overheating protection so that the heater won't run if its air intake is blocked.
This unit needs the air to circulate freely so that it can operate correctly. When the unit is clean and the air is free to move around it, this unit provides even, quiet heat to your room. Keep the size of your room in mind when purchasing it though, because this unit is only able to comfortably heat smaller areas. It is not meant for huge rooms or complete house heating.
Pros
Durable construction
Cool to the touch
Overheat protector
Automatic thermostat
---
2. Dimplex Electric Baseboard Heater (PC6025W31)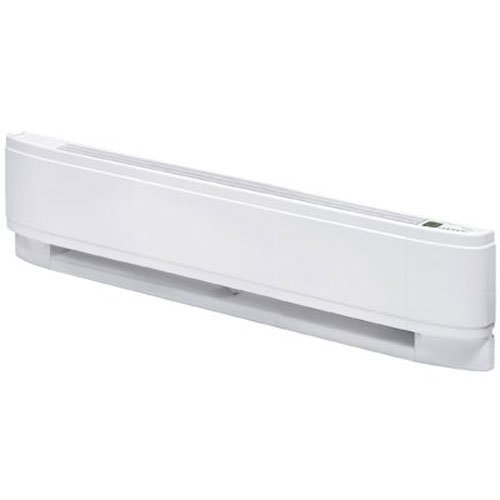 The Dimplex North American PC6025W31 is a powerful 2500 watt unit that can heat a room up to 250 square feet. It's a highly durable unit with convection heat. In other words, it heats up slowly and radiates that heat around the room. There aren't any moving parts on this heater either so it makes absolutely no sound.
The Dimplex also has an integrated thermostat that allows the heater to easily control the heat in the space that it is in. Once you set the thermostat where you want it, the heater will shut off when the room reaches your desired temperature, or turn on if it needs warmed up. The thermostat used on this unit is compatible with the CONNEX™ wireless controllers. These controls are handy but the directions on how to use them are not. Figuring out the directions can be difficult at times.
When you use this heater for the first time, it produces a lot of burning-like fumes. Stay calm! Your house is not on fire, it's just the coating burning off of the heating vanes. The smell will dissipate once the coating is gone. For this reason, it may be a good idea to do that initial heating in a place with better ventilation—either outside or in a room with open windows. You can feel comfortable in your home knowing that this heater has its own automatic overheat protection. If the unit begins to overheat, the electricity flowing through it will immediately shut off before any issues can occur.
Pros
Heats up to 250 sq. ft.
Highly durable
Easy to reposition
Overheat protection
Automatic thermostat
Cons
Smelly initial burn
Controls hard to understand
---
3. Cadet 9954 Electric Baseboard-Heater – Best Value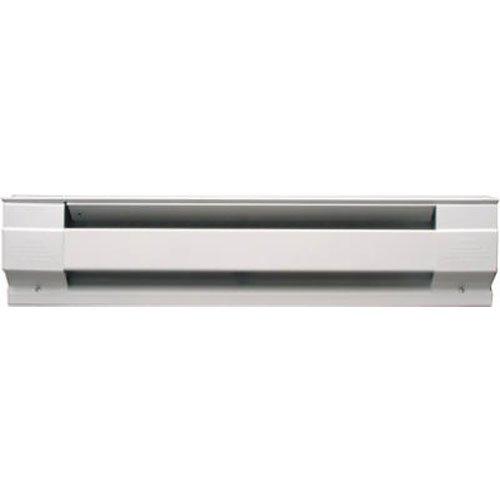 The Cadet 9954 baseboard heater does not plug into a wall socket. It's hard-wired. You can choose whether it's wired for 1000 watts at 240 volts of power, or 750 watts at 208 volts of power. Depending on which you choose, this convection heater is capable of heating a room up to 150 square feet.
This baseboard heater is easy to install and very sturdy and dependable. It's quiet so it won't bother you if you use it in a bedroom. There's also a powder coating on it that gives the unit a smooth finish that doesn't scratch, fade, or wear easily and is resistant to corrosion.
It also has safety features included that will turn the heater off if normal operating temperatures are exceeded. There are a couple of issues with this model of heater: You have to purchase and install your own thermostat, and it doesn't always heat the room evenly. You will often find the area is warm around the heater, but still cool across the room. Heaters can be very expensive to use, especially when heat is not spread evenly.
Pros
No cord
Heat up to 150 sq. ft.
Overheat protector
Powder coated finish
Cons
Needs a thermostat
Doesn't heat evenly
Expensive to run
---
4. King Electric 4K1210BW Baseboard Heater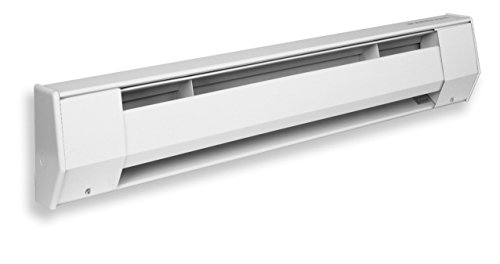 The King Electric 4K1210BW K baseboard heater is easy on the pocket book but built well for the money that's spent. It's very easy to install and requires extremely low maintenance to keep going once you get it up and running. Its dent-resistant cover has rounded edges, giving it a more modern look, and keeping young kids from getting hurt on sharp corners.
This heater can be put anywhere in a room. Keep in mind, however, that all heaters need to be kept away from flammable materials. It should be placed at least 16 inches away from furniture, and at least four inches below all curtains. The King Electric heats up fast, operates quietly, and doesn't make all of the popping and snapping noises that some traditional heaters make.
This baseboard heater model does not come with a thermostat. You'll need to purchase an external one in order to regulate your heat. We've also found that it requires a knockout to install wiring; you'll also have to cut the wires off and put a wire nut in place to complete the installation. In the end, you might not think that all of this effort is worth it. We've found that the heat that it puts out is slightly on the weak side.
Pros
 Heats up fast
Silent operation
Overheat protector
Easy installation
Cons
Needs a thermostat
Weak output
Difficult to wire
---
5. Optimus H-3603 30-Inch Baseboard Convection Heater
The Optimus H-3603 baseboard convection heater has two heat settings (750 watts and 1500 watts) that are controlled by an automatic thermostat. It's made from heavy gauge sheet metal and has a built-in carrying handle.
Installing this unit and figuring out the settings on it is difficult. You might need to keep the manual near you for a while, in case you need a refresher. This is a lot of effort for a heater that takes a long time to heat up a small space, smells like burning plastic, and has a tendency to not last very long.
This heater can do in a pinch, but you need to decide if all of the effort is worth it to you in the long run. It could actually turn out to be more economical to purchase a slightly more expensive model.
Pros
Two settings
Automatic thermostat
Quiet
Overheat protection
Cons
70° coolest setting
Difficult to operate
Takes long time to heat
Complicated setup
Short life span
---
User Guide:
Here are a couple of things to know before you purchase your baseboard heater:
How do baseboard heaters work?
There are two types of baseboard heaters: convection and hydronic. Convection heaters are the most common baseboard heaters on the market because they have no moving parts and are quiet when running. The thermostat is located on the heater itself, or on a wall in the room, and it controls how much heat that the heater will produce before automatically shutting off.
Hydronic baseboard heaters are filled with water or oil that is heated up and slowly warms the air in the room surrounding it. Though convection heaters are most common, hydronic heaters could be considered as having a slight advantage over them because the water or oil stays warm long after the thermostat shuts the heater off. This allows the room to stay warmer for longer periods without the heater actually running.
Related reads: which space heater will work best for a large room?
What size baseboard heater should you buy?
It's important to know which room you want to use it in before getting it because heating a bathroom is a lot different than heating a bedroom. The size of the baseboard heater that you'll need depends solely on the size of the room that it's intended to heat. When it comes to efficient heating, the general rule of thumb is 10 watts of power per square foot of the room.
Tips for operating a baseboard heater:
Baseboard heaters sit on the floor, therefore it's important that the type of flooring that you have isn't too tall. If you have a high carpet, like shag, it can keep the air from moving properly around the unit. Most people think that heat only comes off of the top of the heater, but that isn't true. The air is heated all the way around the unit and permeates the room from there. Blocking the bottom does not allow your unit to run efficiently and may cause overheating.
Baseboard type heaters can also collect a lot of dust and debris off of the floor. It's a good idea to keep your heater clean by periodically vacuuming the coils. If you let dust and debris build up on your heater, it will give off a smell like that of burning hair. They also work much more efficiently, and thus more economically, when they're kept clean.
Baseboard heaters do get hot. Keep them away from all flammable objects.
Usually they're placed under a window, the coldest spot in a room. Your baseboard heater will work more efficiently if you seal the windows with window coverings. The cold air that does leak through is counteracted by the heater, which keeps the room from feeling cold and drafty.
Thermostats should be placed directly on the unit or mounted on a wall at eye level. If it is placed directly above the heater, it will assume the whole room is that temperature and turn the heater off. Keeping it at eye level will result in much more accurate operation.
Baseboard heaters do not have fans of any sort to blow the warm air around. They're more effective when you use them to heat certain zones. This means that rather than heating your entire home, you only heat the area that you need the most.
Cranking the heat up does not make a room warm up faster. The heater takes a certain amount of time to get the warmth of the air in the room up to your desired temperature. If you set your thermostat at 70°, instead of 65°, it will take the same amount of time for the room to reach 65°. Increasing the temperature simply means that the heater will run longer and cost you more money.
Money-saving tips:
Keep your heater clean. Dust build-up will block the heat from moving properly.
Turn it down! Use zone heating as much as possible.
Calibrate your heater, Get a cheap weather thermometer from any store and place it near your baseboard heater. Check the temperature throughout the day, adjusting it to suit your needs. Once you've found your sweet spot, put a mark on your thermostat so you know where to set it every time that you turn it on.
Insulate your house. Eliminate as much window and/or door draft as possible.
Turn on your ceiling fan! Heat rises, we all know that. On most ceiling fans there is a switch on it somewhere that will change the direction that the fan circulates. By switching the rotation, the fan will help to push the warm air back down, keeping your room warmer.
We've given you a lot of information to consider with regard to purchasing an electric baseboard heater. Now let's do a quick review of our top five picks:
Fahrenheat PLF1004 Hydronic Baseboard Heater – Top Pick
Dimplex North America PC6025W31 – The Runner-Up
Cadet 9954 Baseboard Heater – Best for the Money
King Electric 4K1210BW K Baseboard Heater
Optimus H-3603 30-Inch Baseboard Convection Heater
Now that we've told you how electric baseboard heaters work, and given you some tips on how to use them with the most efficiency, hopefully, you will feel more confidence in picking the one that will best suit your needs.
It's also worth mentioning that we recently reviewed propane wall heaters. Click here to see the top picks.