10 Best Ceiling Fans for Bedrooms in 2022 – Reviews & Top Picks
Last Updated on December 11, 2021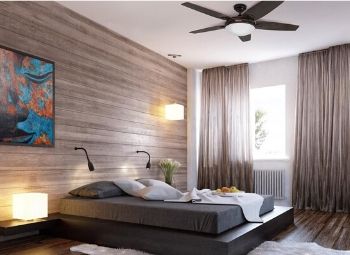 A ceiling fan for your bedroom can be a great investment, as it offers temperature control, beauty, and movement of air. Since the invention of the first electric ceiling fan in 1882, they have become incredibly popular and for good reason!
In this article, we will compare 10 ceiling fans that function best for a bedroom.
There are many types of fans on the market, and this guide will help you determine which one is right for you by considering the available features, cost, and pros/cons.
---
A Quick Comparison of Our Favorites
Image
Product
Details

Best Overall

Harbor Breeze Ceiling Fan

Easy to install
Energy certified
Reversible airflow
CHECK PRICE

Best Value

Prominence Home Ceiling Fan

Pull cord
Light is bright
Reversible blades
CHECK PRICE

Premium Choice

Casa Vieja Ceiling Fan

4 settings
Covers a larger room
Remote included
CHECK PRICE

Minka-Aire Ceiling Fan

Compact
Durable materials
Home automation feature
CHECK PRICE

Hunter Ceiling Fan

Option for no light
2 sizes of downrods
Great for larger bedrooms
CHECK PRICE
The 10 Best Ceiling Fans for the Bedroom – Reviews 2022
1. Harbor Breeze 00724 Ceiling Fan – Best Overall
This ceiling fan is a new model featuring a sleek and modern design. The unit is brushed nickel with a matte gloss glass. With its compact size, it is perfect for a small to medium-sized room, approximately 100 square feet.
This is a 44-inch Mazon fan with airflow up to 4,545 CFM (cubic feet per meter). The light has a module for an 18-watt LED (though the bulb is not included). This 17.4-pound fan is a flush mount design for rooms with low ceilings and a fixed location of 12 inches.
There are three fan speeds, and we noticed that it provides plenty of airflow when on the lowest speed. The motor is quiet when running, and you can reverse the blades to allow for warm and cool season airflow adjustments.
It comes with an easy-to-use remote to operate the fan and light. The wall cradle mount for the remote is included, though the 12V batteries aren't. We discovered that the light is not bright enough on the initial setting, but holding the light button down increases the brightness.
The Harbor Breeze is easy to install if you decide to not hire a professional. On the negative side, your only option is to run this unit with the remote. This fan is Energy Star and CSA certified and comes with a limited lifetime warranty.
Pros
Compact
Adjustable three speeds
Quiet operation
Easy to install
Energy certified
Lifetime warranty
Reversible airflow
Cons
Brightness of light
Remote control only
---
 2. Prominence Home 80029-01 Ceiling Fan – Best Value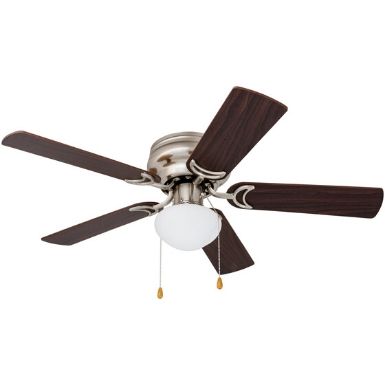 The Prominence is the best bedroom ceiling fan for the money. It is a 42-inch traditional-style fan with four blades and a schoolhouse globe light. The unit has a satin nickel finish, and the blades are reversible with a choice of either a walnut or maple color. Low profile, it is 14 inches from the ceiling to the bottom of the fan.
The light functions with a pull chain for easy on/off adjustments and includes the LED bulbs. One nice feature we like is that it is compatible with universal remote controls. Installation is more complicated because of the separate wiring for the light and the fan. This separate wiring is beneficial, however, because it means you can turn on the fan without the light being on and vice versa.
Compared to the Harbor Breeze, this fan is noisier, the design is plain in appearance, and it is not energy certified. On the upside, it covers a larger room area (up to 350 feet) and has a limited lifetime warranty.
Pros
Light is bright
Covers 350 square ft
Pull cord
Separate wiring for fan and light
Compatible with universal remotes
Reversible blades
Reversible airflow
Cons
No remote included
Noisier
No energy certification
---
3. Casa Vieja Ceiling Fan – Premium Choice
The Casa Vieja Ceiling Fan is a large 56-inch ceiling fan designed for bigger rooms. There are three blades with an airflow of 5,062 CFM. Its contemporary design will blend well with any décor. The base is bronze, and the Kona-molded blades with a dark finish adds beauty and warmth. It has an integrated 17-watt LED light with 1,300 lumens, while the frosted glass reduces glare to provide just enough ambience to the area.
The fan height from ceiling to the bottom of the housing unit is 15 inches (with the 4.5-inch downrod), so this wouldn't do well in a low-ceilinged room. It functions with the use of a remote and has a manual reverse air flow with four different speeds. You have the option to wire it to a switch for on/off control or a two-way switch to adjust the fan and light separately.
The remote appears to be less durable, but it functions well with the fan. This is a heavy fan, weighing 20 pounds. Make certain it is properly attached to a ceiling fan box to ensure that it is secure. There is a lifetime warranty on the motor and a one-year warranty on the component parts. Plus, it is certified energy efficient.
This fan has many nice options, but it is not as cost-effective and is larger and heavier compared to the first two choices on this list.
Pros
Covers a larger room
Light is bright
Separate wiring for fan and light
Reversible airflow
Four settings
Remote included
See how to clean a ceiling fan – Here!
---
4. Minka-Aire F518L-WH Ceiling Fan
The Minka-Aire is a compact 44-inch fan with an integrated LED light. This unit is a flush mount with a four-speed remote control. This fan will work with Alexa or Google Home, creating a convenient way to control it.
This is a contemporary-style fan made primarily of metal, which makes it heavy at 26 pounds. The airflow capacity is 3,783 CFM, and the height of the fan is 12 inches (measuring from ceiling to the bottom of the fan). The light will put out an adequate amount of brightness for a small bedroom, and you can also set it up to use with a wall switch.
Another feature of this fan that the others don't offer is a cap for the light. It is nice to have a no-light option in case you install it where a one isn't needed. On the negative side, this fan is more expensive and the light dimming option isn't that distinct. Installation is a breeze, and there is a limited lifetime warranty in place.
Pros
Compact
Home automation feature
Option to cap light
Durable materials
Remote included
Can wire to wall switch
---
5. Hunter 53091 Indoor Ceiling Fan
If cooling your large bedroom is a top priority, then the Hunter 53091 52-inch fan will serve you well, since it has an airflow capacity of 3,525 CFM. It also has an attached light that houses two dimmable, 60-watt incandescent bulbs, which are included with your purchase. This fan has the option to be installed without the lighting kit, however.
The blades are a cherry color and the base has a bronze tone; we appreciated this timeless design that has the potential to complement different styles. Using either the three-inch or two-inch downrod, you can adjust your fan to a preferable height.
Though this fan has a pull chain, there is also a well-made remote control with the option to wire the fan to a wall switch. It's convenient to turn the light off and leave the fan running with either the remote or the switch.
The light cover is toffee glass, so it doesn't have harsh light coming from it. There are three speed settings, and we found this fan to be quiet even when running on the highest setting. The motor is reversible, so you can adjust it to either the updraft or downdraft mode.
It's easy to install with well-written instructions. Hunter has been crafting ceiling fans for over 125 years, and they offer a limited lifetime warranty on this fan.
Pros
Great for larger bedrooms
Remote control
Option for no light
Quiet
Two sizes of downrods
Easy installation
Can wire to wall switch
Reversible air flow
Cons
Light not strong
No option to dim the light
---
6. Monte Carlo 5DI52PND Ceiling Fan
The Monte Carlo 5DI52PND is a larger fan at 52 inches in diameter and 15.6 inches in height, including the 6-inch downrod. Even though the fan is large, it only weighs 18.7 pounds. The unit is a polished nickel finish with American Walnut blades, giving it a more modern look and feel.
There is a three-speed pull chain, and it does not come with a remote control, though one can be purchased separately. It has the option to be wired to a wall switch for the added convenience of turning off the fan or the light separately. The light output is ample for a regular-sized bedroom and is dimmable.
It comes with one 75-watt halogen lightbulb, which unfortunately, isn't as energy efficient as LED lights. The Monte Carlo has a limited lifetime warranty.
Pros
Adequate for larger bedrooms
Three-speed pull chain
Lightweight
Can wire to wall switch
Ample light
Cons
No light dimmer
No remote
Halogen light
You may also like: 
---
7. Westinghouse Lighting Indoor Ceiling Fan
The Westinghouse Lighting Indoor 42-inch fans offers a gun-metal finish with reversible blades of either black or graphite in color. It is modern in design and has an incandescent light with opal frosted glass. At 10 pounds, it is compact and light, with a height of 12 inches. The airflow capacity is 2,897 CFM, so it will do well in a smaller bedroom.
There are three fan speeds and a reversible switch to adjust for warm and cool seasons. It includes a 4-inch downrod to lengthen the height. There is no remote control included, but you can purchase a universal remote. There are two pull-chains, and you can connect it to a wall switch to adjust the settings.
We found this fan to be casual enough for any environment, quiet at all levels, and easy to install. You might also like that it is within an affordable price range. On the downside, it is not made of high-quality materials.
Still, there is a lifetime motor warranty and a two-year warranty on all other parts.
Pros
Lightweight
Compact
Three speeds
Can wire to wall switch
Easy installation
Quiet
Cons
Remote not included
Incandescent bulbs
Lower quality materials
---
8. Portage Bay 50251 Ceiling Fan
The Portage Bay 50251 52-inch fan may work if you have lower ceilings in your bedroom. The fan height measures 11.5 inches from the ceiling to the bottom of the light fixture. The blades are reversible with the choice of matte black or Siberian Walnut. The motor unit is a matte black finish as well.
It is lightweight at 13.16 pounds, and the air speed can reach 4,797 CPM. The light cover is opal frosted, using LED bulbs. On the downside, the Portage bay is built to be operated by the two-pull chains or a wall switch, so it will not work with a universal remote.
On high speed, we did notice a loud humming noise, but at lower speeds, it was quiet. The light source is rather dim, so it may not adequately light a larger room. There is a limited lifetime warranty on this product.
Pros
Cools a larger bedroom
Low profile
Reversible blades
Lightweight
Reversible motor
Can wire to wall switch
Cons
Dim lighting
No option for a remote
Loud at high speed
---
9. Honeywell 50197 Ceiling Fan
The Honeywell 50197 is another low-profile fan that is 48 inches in diameter and 12.8 inches in height. It has an oil-rubbed bronze finish and offers two blade finishes: Cimarron (reddish-brown) and ironwood (dark gray). The light is a cased white glass that uses incandescent bulbs.
It works with a remote control that adjusts the three different fan speeds, light delay, and dimmer. However, we found that the remote function was rather delayed once a button was pushed. You can solve this by hooking it up to a wall switch.
On the downside, this fan is difficult to put together and is on the noisy side at high speed. It comes with a limited lifetime manufacturer's warranty and a 100% satisfaction guarantee.
Pros
Low profile
Three speed
Remote control
Wall switch compatible
Cons
No pull chains
Remote delay
Difficult to assemble
Noisy
---
10. LUOLAX Modern Ceiling Fan
The LUOLAX is a unique fan because it has retractable acrylic blades that extend when powered on. This fan has LED lights (that change color) and Bluetooth wireless speakers that are controlled via a mobile phone download (APP). A handheld remote is used for light control and fan speed.
The LUOLAX would be best suited for a small room because when the blades are fully extended, the fan is 42 inches in diameter and the light isn't very bright. It has the capability to be set up with a wall switch, and the fan can be used with the light on or off. It comes with a downrod, and the total height of this fan is 14 inches.
We found the Bluetooth app and the remote control to be somewhat confusing to use, due to the variety of options. The assembly instructions are not very clear, and assembly is difficult because of the amount of wiring needed.
On the upside, the company offers a 60-day manufacture-defective warranty and a 30-day unsatisfied replacement or return service.
Pros
Retractable blades
Bluetooth speakers
Colored LED lights
Cons
Too complicated
Difficult assembly
Instructions difficult to understand
No reverse function
Poor warranty
Looking to heat your bathroom? Check out the top bathroom heaters of the year
---
Buyer's Guide
This section has tips and considerations for buying a ceiling fan for your bedroom, such as what options are available. We hope that after reading, you will be confident in your ability to make an informed decision.
General Considerations
Location: Consider how big your bedroom is; start by figuring the square footage, and then you can choose the appropriate fan size for the space.
Rooms less than 75 square feet: The ceiling fan should be 36 inches or less.
Between 75 and 144 square feet: Get one with a diameter of 36-42 inches.
Large rooms around 225 square feet: These will need a 50-inch fan or greater.
Also, consider your ceiling height. A 9-foot or lower ceiling will need a flush-mounted fan, and for one greater than 9 feet, consider the use of a downrod.
Mounting type: A flush mount is also known as a low-profile or hugger fan, since it anchors directly to the ceiling. Flush mounts will not have as good as airflow, since there is not enough distance between the blades and the ceiling. A downrod is a metal rod that connects the motor to the mounting hardware and helps keep the needed 10 inches of air space between the blades and the ceiling, allowing for maximum air flow.
Control options: Many fans will come with a remote control or the option to purchase a universal remote. It's a nice feature to have besides a wall switch, which offers greater flexibility in case you lose your remote or it gets broken. Most fans will come with pull-chains too, one for the blade control and another for the light (if there is one).
Efficiency: Flow rate is the best way to measure efficiency. Cubic feet per minute (CFM) is the measurement used when talking about ventilation. The higher the airflow efficiency and the lower the wattage, the more efficient it will be.
Motor: Most fans have AC motors that are less expensive and reliable and offer good energy efficiency. On the other hand, DC motors are more efficient and quiet and offer more power and torque.
Other options
Light: You have the option to get a fan with a light, which is ideal if you want a fan for the bedroom but still need light. Some fans will offer a light with the option to cap it off. Lamps will vary; LED is the most efficient, followed by fluorescent, with halogen/incandescent the least efficient of the three. Certain  lights offer a dimmable option too.
Finish: There are a variety of finishes, from brushed nickel to bronze and white — basically, you have options to match your décor. The finish of the blades also come in a variety of colors and may even be reversible. Blades can be made from different materials such as particle board, real hardwood, and metal.
Reverse Rotation: This is a good option for those who live in areas with hot and cold seasonal changes. For the summer, the fan should rotate counter-clockwise and in the winter, reverse to a clockwise rotation, which will push the warm air down along the walls and back to the floor.
Tips When Buying
Cost: Your budget is usually first and foremost when deciding on a purchase. You can typically find a decent fan for less than $100, though these will have fewer style options and decreased functionality. In the $200 range, you will find more energy efficiency and higher quality.
Warranty: When you are buying anything with a motor, it is wise to purchase one that has a great warranty. Generally, higher quality fans will offer a limited lifetime warranty.
Company Reputation: If a company has been in business for a long time and focuses on customer satisfaction, you will probably get a better fan.
Conclusion
Choosing a fan that's right for your space takes extra thought and time-consuming research. That's why we've reviewed the top 10 bedroom ceiling fans for 2019 for you.  Harbor Breeze lands in the first spot, as this fan offers many quality features at an affordable price. The best value for the money is the Prominence Home fan, with its traditional-style features. The premium fan is the Casa Vieja, with its sleek design and efficient Kona-shaped blades, well suited for large bedrooms.
After reading the reviews and browsing through the buyer's guide, we hope you feel equipped and confident to purchase a fan that will fit your style, cool you off, and have the features you value the most.