10 Best 8000 BTU Portable Air Conditioners of 2022 – Reviews & Top Picks
Last Updated on December 11, 2021
Your roommate just bought a new portable air conditioner, one boasting over 8,000 BTUs. You appreciate the cool air, but you wonder how much actual research went into this purchase.
If you're in a similar situation or are still trying to find the best AC unit for your own home, you might want to take a look at our reviews of 8,000 BTU portable air conditioners. We did the hard work for you and researched, tested, and selected the best, and have written extensive reviews which include pros/cons lists and a buyer's guide!
---
A Quick Comparison of Our Favorites
Image
Product
Details

Best Overall

FRIGIDAIRE Air Conditioner

Dehumidifier
Filter removes bacteria
Cools rooms up to 350 square feet
CHECK PRICE

Best Value

MIDEA Air Conditioner

Auto mode
Sleep/Eco mode
Proximity detection
CHECK PRICE

Premium Choice

SereneLife Air Conditioner

Lightweight
Easy installation
Quiet/sleep mode
CHECK PRICE

Honeywell Air Conditioner

Cools up to 350 square feet
Dehumidifier capable of almost two pints per hour
CHECK PRICE

BLACK+DECKER Air Conditioner

No condensation bucket
Remote control operated
Easy-to-read LED display
CHECK PRICE
The 10 Best 8000 BTU Portable Air Conditioners – Reviews 2022
1. FRIGIDAIRE Portable Air Conditioner – Best Overall
Whether you want to maintain the temperature in a certain room or cool down fast, this offering from Frigidaire has you covered. Meant to cool and control rooms up to 350 square feet, you'll notice other benefits as well. With the built-in filter, this product will trap harmful bacteria, effectively removing them from the room. Because of this, your room will feel crisper and smell fresher. Fully programmable, the timer inside the unit makes it capable to be turned on and off in 30-minute intervals. It also serves as a dehumidifier, able to dehumidify rooms at a rate of 2.8 pints per hour. Feeling too lazy to get up to change the AC? Frigidaire has you covered there as well. This machine is fully operational with a remote control.
This model comes with a window kit so it can be used as a stand air conditioner or it can sit out in your room. This should keep you cool for season after season, but if anything were to happen to it, it comes with a one-year warranty. This Frigidaire is kind of loud, but we expect that with air conditioning.
Pros
Cools rooms up to 350 square feet
Filter removes bacteria
Dehumidifier
One-year warranty
---
2. MIDEA Portable Air Conditioner – Best Value
Generally when thinking of air conditioning units, we aren't too concerned with aesthetics, but this is a great looking air conditioner. Does it work, though? Turns out that it does, and for the price, you couldn't ask for more. Able to cool or dehumidify rooms up to 100 square feet, this product from MIDEA will have you chilling in style. Not only does this unit cool rooms anywhere from 62 to 95 degrees, it also helps you save on your electricity bill with a SLEEP/ECO function that will regulate when the machine is on or off. For extremely easy usability, all you have to do is set it to the temperature you prefer and then put it in auto mode. If you want a mobile air conditioning unit, you'll be thrilled to find the attached wheels on this product. You will have to clean this unit every now and then, but there is an indicator on the LED display letting you know when you need to change filters. Working with both hung and sliding windows, installation is a breeze. Another cool feature is that this air conditioner can tell how close or far you are from it and will adjust the temperature based on that.
So, with all that said, it's easy to see why we think that this is the best 8,000 BTU portable air conditioner for the money. Of course, not all products are perfect. With this item, durability is a bit of a concern, and there is a tendency for cracks where the hose is connected. While air conditioners are normally a bit noisy, this unit is particularly loud.
Pros
Proximity detection
Auto mode, SLEEP/ECO mode
Cool aesthetics
Cons
Noisy
Durability concerns
---
3. SereneLife Portable Air Conditioner – Premium Choice
Able to cool rooms of up to 225 square feet, this air conditioner advertises itself as being lightweight and portable at 50 pounds.
This product really serves as a three-in-one: It is an air conditioner, a fan, and a dehumidifier and does all three jobs really well! It works hard, so you won't have to. This product comes with a remote control so you can change the temperature from anywhere. Installing this product is easy, but it needs to be near a window. Like with other air conditioners, you want to keep your eye on the exhaust hose because a malfunction can lead to some pretty soggy problems. As for noise, SereneLife has made a product that is both efficient and quiet. With sleep mode on, it is even more quiet. The only reason this isn't our top pick is because of the price point.
Pros
Lightweight
Quiet/Sleep mode
Easy installation
---
4. Honeywell Compact Portable Air Conditioner
Another lightweight item, this offering from Honeywell is quite powerful for its small frame. This can cool rooms between 250-350 square feet! Installation is quick and easy, as is cleaning. The filter is fully washable, so you won't have to replace it like you do with other products. This item comes with an energy-saving mode to help save on your bills — you can program how cool you want a room to be, and this unit will operate on its own. It also doubles as a dehumidifier, pulling in almost two pints of moisture per hour. You will have to dump the water bin periodically; otherwise, this product is liable to overflow, causing unwanted problems.
There are issues where this product can keep going even when the desired temperature is hit. That's a pretty big deal considering how expensive electric bills can be in the summer. Fortunately, Honeywell has a well-trained and supportive staff to help you if this happens.
Pros
Easy installation
Cools up to 350 square feet
Dehumidifier capable of almost two pints per hour
Cons
Sometimes does not turn off when supposed to
---
5. BLACK+DECKER Portable Air Conditioner
Meant to be used for immediate comfort, this air conditioning unit is designed for smaller rooms. This comes with an easy-to-read LED display. Of course, that's if you want to stand up to read it. As is standard with most portable AC units, this product comes with a remote control. It also works with both hung and sliding windows and comes with a kit for easy installation. While this doubles as a dehumidifier, you'll never have to dump it out because the exhaust hose actually dissipates the moisture for you. Like the previous models on our list, this item comes with wheels for easy mobility.
There is a bit of a weird design flaw, however. The instructions state that you can't have any right angles with the exhaust hose, which means you pretty much have to keep this item right in the middle of the room. This seems a bit cumbersome to us. Along those lines, the setup itself is a little trickier than other AC units. Sometimes the exhaust hose doesn't exactly work, and moisture that was supposed to turn into mist actually turns more into water, and instead of being dissipated, it's just dumped into the room. This model also boasts how quiet it is, but even at the advertised 75 dB, that's still way louder than the other units on this list. To sum up, this unit works but is far from perfect.
Pros
No condensation bucket
Easy-to-read LED display
Remote control operated
Cons
Fickle exhaust hose
Design flaw
Loud
---
6. Shinco SPF2 Portable Air Conditioner
One of the biggest problems people have with portable AC units is all the liquid that comes along with them. This item from Shinco attempts to mitigate that problem with a self-evaporating design, and when it works, it works great. Along with that, this unit has three separate functions: It is an air conditioner, a two speed fan, and a dehumidifier. The dehumidifier has a capability of 60 pints per day, which is right around industry standard. The fans works well, and the product cools just like it says it will.
So, why is it so low on our list? Unlike the other products, there is no auto shut-off with this Shinco air conditioner. You will have to regulate room temperature yourself. While this works well, our idea of chilling isn't constantly getting up to change the AC. This unit is portable as long as it is near a window, because it must be vented to the outside. It's also quite loud, but at least, the manufacturer doesn't claim that it's quiet.
While this unit doesn't come with some of the bells and whistles of the others on this list, we've actually found that it works like a charm — most of the time. This AC has a fan following of people who love it, but even they will tell you that when it works is more of an if. There's a reason it's number 6 on our list.
Cons
No remote
Must be by a window
Inconsistent
---
7. Haier HPP08XCR Portable Air Conditioner
Much like the item right above it, this offering from Haier is bare-bones, no-frills air. With no remote and only a 24-hour timer, this is not programmable and not exactly great for just taking it easy. This is another unit where you have pay attention for it to do its job and keep you cool. Though not recommended for rooms over 200 square feet, this will do the trick in dorm-style rooms or campers during summer trips.
This item is similar to number 8 on the list, but while both are flawed, this item is flawed in a bit of a different way. Naturally really loud, sometimes you'll get peace and quiet because this item has just decided to stop working. You'll never know when and you probably don't know why, but every day is an adventure in air conditioning with this unit.
---
8. JHS A019-8KR Portable Air Conditioner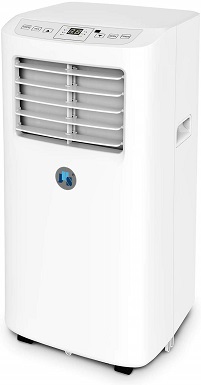 Our number 8 offering veers away from the last two items on our list because it does come with a remote control. As is the standard, this item is a three-in-one AC/fan/dehumidifier and does a pretty decent job of all three. The LED display is intuitive. With a built-in water tank, you do have to worry about emptying it, but not about your AC unit attempting to flood your house. As for noise, this unit is about as quiet as a car.
As for the water tank, that's where things get messy. The dehumidifier on this product fills up about once every 10 minutes and then shuts off.
Cons
Noisy
Turns off every 10 minutes
---
9. Rosewill 18001 Portable Air Conditioner
Coming with many industry-standard features, this is a neat little air conditioner, even if it looks menacing. It is programmable, self-evaporating, and comes with our favorite feature, a remote control.
While it has all those features, it does have one alarming quality: It doesn't really cool down rooms. And if a unit doesn't cool, well, that's not cool.
Pros
Has all the bells and whistles of an awesome AC unit
Cons
It doesn't cool down rooms
---
10. AireMax APO108C Portable Air Conditioner
Let's start with the pros: This product comes with a remote control. But since it is number 10,  we'll also have to talk about the cons: This product leaks everywhere and doesn't work. It's also really loud.
It does come with a one-year warranty though, so at least you can get another one that leaks everywhere and doesn't work.
Cons
Leaks everywhere
Doesn't work
---
Buyers Guide
Buying an AC unit is important, especially in the summer months where heat can become unbearable. ACs are notoriously fussy, so review lists like this one are even more important. So, what should you look for?
Are you a light sleeper?
If so, you'll be more concerned with how loud your unit is. The good news is that there are products that are much quieter than others, but the bad news is that all of them put out at least some noise.
How do you feel about water?
There are two types of dehumidifiers. One type evaporates the water so you don't have to drain it yourself. This sounds great — unless it stops working, because when that happens, you'll have a leaky mess of a machine. On the other hand, there are options that have a draining bucket that you will have to dump yourself, and the worst that happens is the unit turning itself off when it gets full.
Warranty
As these are traditionally fickle, you are well advised to make sure that your AC unit comes with a good warranty. Even the best of the best can break down, which would be an especially big bummer in the summertime.
Conclusion
What a cool list of items, right? Between our top pick of the Frigidaire or our value pick in the Midea, there are plenty of ways to keep yourself chill when the weather is hot. We know that there is quite a bit of thought to be put into buying an air conditioner, as it isn't cheap, and we hope that these reviews were not only helpful, but a breeze to get through.